I have a huge inbox on Gmail and get lots of messages each day. This has the unfortunate consequence of me sometimes forgetting to respond to critical email and having people send me reminders or have my boss yell at me. No good. Is there some sort of to-do or priority queue I can utilize in Gmail to help me mark the really important messages for a response?
There seem to be two ways of dealing with email in the modern world; complete overwhelm or strict discipline. The complete overwhelm people are those that have a tiny red badge on their Gmail icon listing thousands of unread messages. They shrug when asked about it and a lot of them do muddle through, mostly. The strict discipline people use strategies like "inbox zero" where messages are immediately triaged and moved to one of a few – or a few dozen – folders for later processing. Both have their benefits, but I have to admit that I endeavor to be an inbox zero person: Having lots of messages in my inbox, particularly unread, is stressful!
Google's Gmail has a number of different ways you can manage your inbox too. One easy way is to use the tiny 'star' icon adjacent to a message. By default the star can be yellow, green, and red, so you can easily use that to denote messages that you have to answer (red), messages from friends (green), and messages that might be important but aren't yet (yellow). This works best if most of your email is not "starred", though, otherwise it can devolve into a bewildering array of colors that you tune out. [read more: Using Gmail Stars To Organize Email]
Another strategy is to use lots of folders (Gmail calls them "labels") and just remember to check key folders each day for pending messages. Gmail rules can help you automatically route messages into the correct folders too, which is particularly helpful if you're on any mailing lists. [read more: How to Filter Email with Gmail Labels and Filters]
A third way to deal with this is to use the under-appreciated Gmail To-Do feature. In fact, I bet you didn't even know that Gmail had a to-do list feature that lets you check off daily tasks, but set them up on repeat and even tie them to specific email messages to help you understand what's going on. Darn helpful.
SET UP A GMAIL TO-DO REMINDER FOR A TASK
Turns out I just got an email from BestBuy asking me to sign up for a payment program now offered through their influencer program (I'm a BestBuy influencer through my YouTube channel if you're curious). I need to deal with it, but not today. A perfect message to turn into a to-do! Here's the head of this email message:
If you're like me, your focus is on the message itself, but there's a row of useful function icons along the top! In fact, move the cursor over to the icon with the check mark and a label pops up:
Gmail, as you can see, uses "tasks" and "to-do" interchangeably. In this instance, I can add this email message to a new to-do item (task) with a single click of this button. This causes a whole new side panel to emerge from the right side of the Gmail window (on the Desktop interface, at least. The mobile interface shows you this a bit differently):
Most importantly, notice on the bottom that it says "1 added", so while the graphic is showing a welcome image, in fact, there's now a new task established that's linked to this particular email from BestBuy.
A click on "Get started" removes the graphic and shows that – surprise! – I already have a bunch of tasks on my list!
This is a pretty typical to-do list design: click on the empty circle and you can check off that you've completed the task. You can add a task by clicking on … wait for it … yes, you guessed it! "Add a task".
EDITING AND UPDATING A GMAIL TASK
Once you have the task set, there's a lot you can do to make it more useful. Start by moving your cursor to the right of the task title and a pencil icon will magically appear:
Why hidden buttons are a feature of modern user interfaces is beyond me, but that's an entirely different topic!
Once you click on the "edit details" pencil icon, a window opens up with a bunch of new options: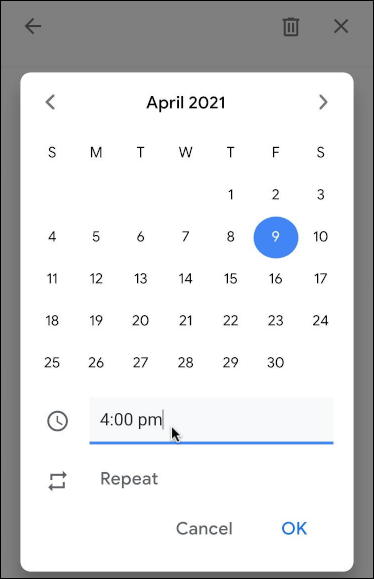 Most notably you can assign a date and time for when the task should be completed. This helps with reminders, of course. Perhaps just as importantly, notice in the greyed out area the trashcan icon: that's how you delete a task from the list.
Want to have it be a recurring task? Click on the Repeat link and you'll see that there are options for daily, weekly, monthly and even yearly repeat cycles:
This could be a smart way to remind yourself to get Valentine's Day flowers a day or two before Valentine's Day, for example. 🤓
Click "OK" to go back to the main edit screen. Here you can edit the title of the task, add a description, and so on. Finally, here's my new task, renamed, with a brief description added, assigned to 4pm today and repeating:
That's easy enough, isn't it?
FINDING YOUR TASK LIST IN GMAIL
Once you create these tasks and close that side panel, it's not obvious how to have it show up again. If you look on the very lower right of your Gmail window, however, there's a subtle ">" arrow. A click on that and a narrow sidebar of icons appears:
It's a different icon than the one along the top of your email messages, but the icon 'hint' indicates which is Tasks. Click on it and the side panel shows up.
Which leads to the one last question: How do you mark a task as done?
Click on the circle. Yeah, really. It's that easy. Now, go and get organized!
Pro Tip: I've been writing about Gmail for years and have quite a library of help articles. Please check out my Gmail help area while you're visiting! Thanks.