I know that I can easily get the weather to show up in my Start menu display, but I would like to be able to have it zero clicks away, not one click away. Is there any way to have the current outside temperature show up directly on the taskbar?
Surprisingly, the Microsoft Windows Weather app offers a beautiful interface to this important information, but somehow doesn't offer the ability to show the temperature directly on the Taskbar. You could just leave it open on your Desktop, of course, but then it's cluttering up the screen for a single digit you want to view now and again, so that's not super efficient. Years ago I wrote about using an app called Weatherbug to accomplish this task – Show temperature on your PC Taskbar with Weatherbug – but that's no longer available as far as I can tell.
Fortunately there's an alternative third party weather app from The Weather Channel called WeatherEye. Would I rather have something directly from Microsoft so I know there's nothing worrying about the app? Definitely. Is that available? Not at this time. So a third party app it is. In this case, WeatherEye is available through Softonics as a free download, but let's see what's available first, in case you decide you'll live with the current situation.
To start out, my Taskbar, sans weather information:
I have the date and time, why can't I have the weather too? Crazy, man.
As you pointed out, you can indeed just jump over to the Start menu:
Well, it doesn't show thee current temperature, just the forecast for today: A low of 41F and a high of 83F. Quite a temperature variation, actually, but that's another story!
You can actually pin the weather app to your Taskbar, as it happens…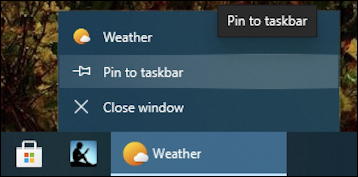 But that's just a shortcut to the weather app with no information shown (the rightmost icon):
So what's a weather nut to do? Install WeatherEye. To do that go to this URL:
https://weathereye.en.softonic.com/download
You'll get to this screen:
I've highlighted the actual download button because as with all of these software repositories, the layout is confusing and designed to make you "accidentally" click on an advert or download software you don't want.
But click on the green "Free Download" and open up the .exe file you receive. It's a quick and easy install and before you know it you'll be prompted to enter some demographic info on age, gender, etc. Skip that and you'll get to this configuration window: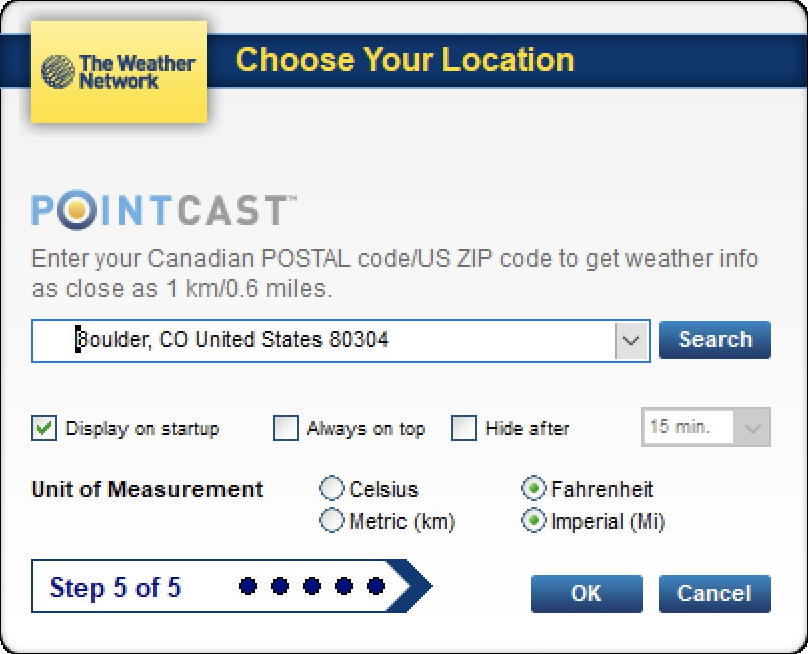 Don't just enter your zip code, however, there are some other settings you might want to change. I turned off "Hide after" and switched units to Fahrenheit and Imperial (Mi) though I'm not sure when distances come into play on a weather app. And that's it. A click on "OK" and the app's window pops up:
Obviously from the programmer's perspective, this is just a vehicle to show that big, splashy advert. Meh. Fortunately you never have to look at this window: Just click on the minimize button on the very top right and it'll shrink down to an icon on the Taskbar:
An icon that shows, you guessed it, the current temperature! It is indeed 48F outside at my location, so mission accomplished: A small and modest display of the current temperature on the Taskbar.
Pro Tip: I've been writing about Windows since the beginning of the Microsoft operating system and have accumulated hundreds of useful Windows tutorials in my Windows 10 help library. Please do check it out while you're visiting. Thanks!