Now that I have an Amazon Echo, how do I actually add skills to the Alexa app so it can do more?
First off, I think you might need to refer to your Amazon Echo as "her", not "it", to sound like a hardcore Internet of Things fan! With her female voice it's easy to start thinking about the disembodied voice as "Alexa" and use female pronouns. We do it all the time with our household full of voice-activated devices.
You're right in wanting to explore Skills with the Amazon Alexa too, because there are now over a 1,000 of them and while many seem to be a bit daft – to put it charitably – there are also some really slick voice apps out there, ranging from sports scores to games to ambient sounds for sleep or baby's room. All of it's controlled through the Amazon Alexa app on your paired smartphone, however; you can't add Skills directly from the Echo unit itself. It's available for iPhones or Android, and you can't really get your unit online and working without the app, so you must already have it.
Launch the Amazon Alexa app. It's all black and white:
You can scroll down and see what you've been doing – or other family members have been saying to the unit! – or to proceed you'll want to tap on the so-called hamburger menu on the top left, the three horizontal lines. This brings up the menu:
Tap on "Skills" to get to the Skills area, logically enough.
This is where things get a bit confusing because there are three ways you can navigate through the 1000+ skills in the Alexa database: you can search for words or phrases, explore categories or look at the featured skills advertisements:
See the "Categories" button? That gets you to categories, and there's a search box but the main area here at the top has features skills and is always worth a glimpse first as new skills show up and pique your interest (hopefully!).
To start out, tap on "Categories" or swipe down to find the categories area:
Notice the "Your Skills" link on the top right. If you ever want to see what's actually installed, that's the shortcut. You can explore the categories further here as there are a lot of different choices, and you could even try a search for a word or phrase, but let's back up, because a skill caught my eye back on the very top of this screen: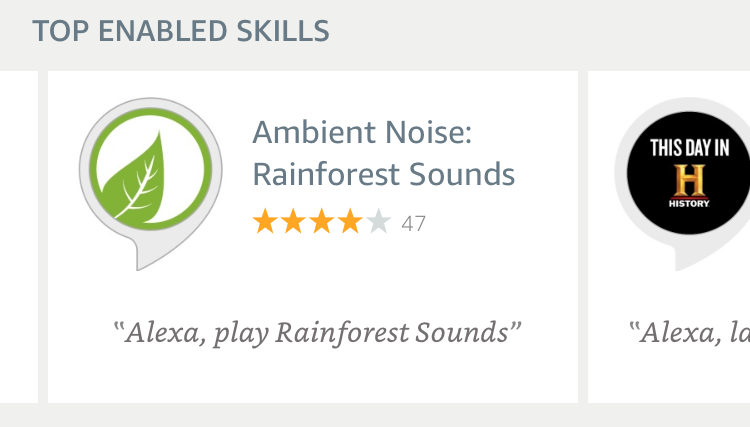 That sounds pretty cool, rainforest ambient sounds on my Echo. Very relaxing!
A tap and you can see a lot more about the Ambient Noise: Rainforest Sounds Skill:
Easy enough to use, as you can see. Just say "Alexa, play rainforest sounds" once it's enabled. To enable it tap on… you guessed it! the "Enable" button. It briefly switches to:
and then while it doesn't explicitly say "installed!" you'll notice that the main info screen switches:
That's it. Done. Ready to go. Now simply say Alexa, play rainforest sounds and enjoy your newfound skill!