I like most of the typefaces included with Windows 11 but want a few more fancy headline fonts for the brochures I produce. How do I add new fonts to Win11, ideally free ones?
In the beginning, there was Arial. In fact, Windows 3.1 shipped with Arial, Courier New, Symbol, Times New Roman, and Wingdings. That's it. We've come a long way from that point and now Microsoft Windows ships with 93 typefaces installed. It's helpful to have big hard disks rather than 3.5″ floppy discs!
Even with almost 100 typefaces, however, it's not uncommon to look through the list and not find what you seek as a designer. From decorative to formal scripts to scribbled handwriting fonts, there are tens of thousands of typefaces people have created, so why stick with those 93? Fortunately, Windows 11 supports a variety of font formats but my favorite is TrueType, which is well-supported not only on Windows but on Mac systems too, so you can have the same typeface across platforms. Better yet, Google has a very nice repository of over 1,000 TrueType typefaces ready to download and install. So let's do it!
DOWNLOADING A TYPEFACE FROM GOOGLE FONT LIBRARY
To start out, jump over to fonts.google.com and you'll be able to browse through the font library: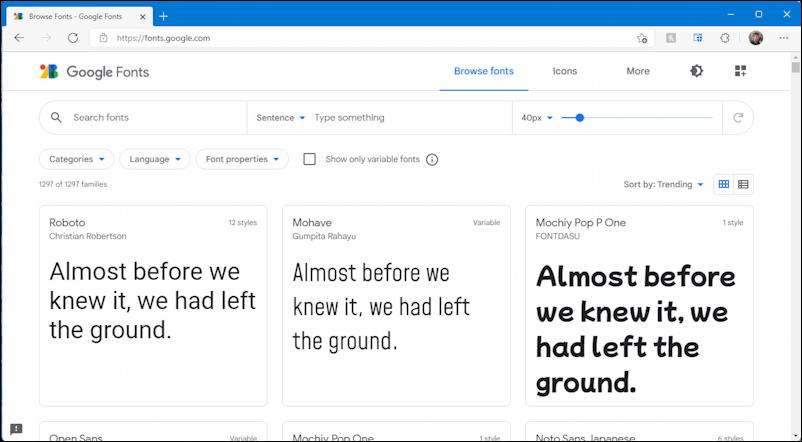 It's a bit nerdy, but just focus on the search box. For this demo, I'm going to install a decorative typeface called Cinzel Decorative. To find it, I'll just search for "cinzel" on the site. The results:
There are three variations of Cinzel Decorative: Regular, Bold, and Black.
Trivia: Cinzel is a typeface inspired in first-century Roman inscriptions, and based on classical proportions. While it conveys all the ancient history of the Latin alphabet it also merges a contemporary feel onto it.
Rather than just install a single style, I'm going to download all three in Microsoft Edge by clicking on the "Download family" button (highlighted) on the top right of the window. Easy enough!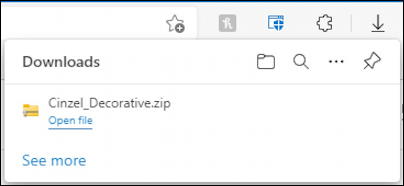 The font family is downloaded as a ZIP archive, but it's easy to work with; just click on "Open file" and it'll be unpacked and you'll see the individual font files within:
Now a small sidetrack; Windows 11 has a font manager area within Settings so that's how we're going to try installing our new fonts…
WINDOWS 11 PERSONALIZATION > FONTS
Go into Settings, search for "fonts" and you'll end up here: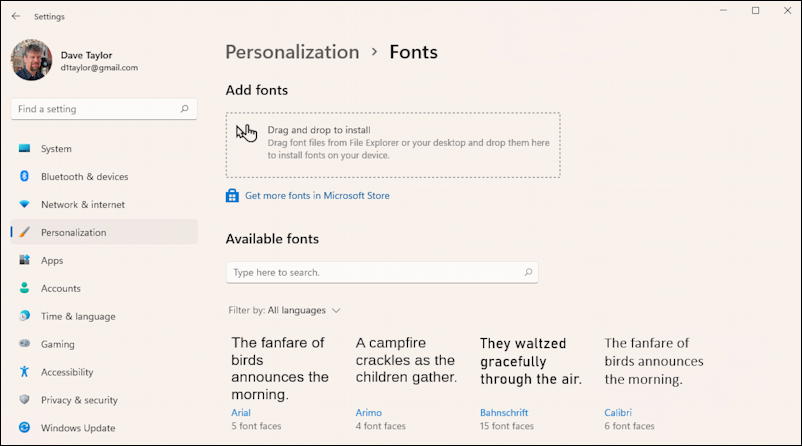 Can you see that top area where it says "Drag and drop to install"? Let's just try that with those files, shall we?

Well boo. The Windows 11 Font Installer portion of the Settings app can't accept TrueType fonts. This is denoted by the tiny red 'do not proceed' circle; drop the files and they're just ignored (you don't even get the privilege of an error message or beep!)
Not to despair, though. Turns out that there's a Font Viewer in Windows 11 (that's been part of Windows for quite a while) and it works just fine as a TrueType font installer…
INSTALLING WINDOWS 11 FONTS WITH FONT VIEWER
Even better, it's already registered as the default app for these files, so double-clicking on any of the three Cinzel Decorative font files will fire up the program and display the font:
Notice the third line of the information shown too. This is an "OpenType Layout, TrueType Outlines". That's particularly interesting because OpenType is jointly developed by Microsoft and Adobe, so why isn't it supported as a drag-and-drop font file in Windows 11?
Anyway! Click on "Install" on the top left and you'll see a progress window for a moment or two…
Then it'll be installed and ready to go. Do this with each of the font files, then you can go back to Settings > Personalization > Fonts and sure enough, Cinzel Decorative is now part of the Windows 11 font library:
Mission accomplished. Now, to test out the new font…
USE NEW FONT IN MICROSOFT NOTEPAD IN WIN11
The easiest way to check out that your typeface was properly installed is to open up Notepad and type in a sentence or two:

Notice that I typed in my sentence – not displayed in Cinzel Decorative! – and then chose Format > Font… 
At this point the font picker window pops up and Cinzel is indeed one of the options: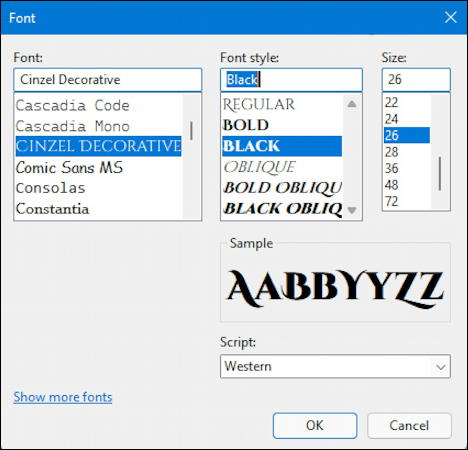 Note also that the Font list shows each font using itself, so you have a handy reference to how things will look. I've clicked on "CINZEL DECORATIVE", chosen "BLACK" and stuck with 26 point for the font size. A small sample is shown, but let's just click "OK" to proceed. The results:
That's pretty cool, actually, and works well as a headline font given that it's only capital letters. Notice the unusual "HE" ligature on the word HEADLINE too. Interesting!
Helpful Tip: I've been writing about Windows for many years and now have an extensive Windows 10 & Windows 11 help area. Please check it out to find lots of additional tutorials and guides while you're here. Thanks!