For the life of me, HOW DO YOU ADD GRAPHICS OR ART TO POSTS YOU WRITE ON FACEBOOK! I mean I see people add Snoopy pics, birthday clip art, a bouquet of flowers, and now they're even adding background pics to put your photos in, etc. I know how to change my thumbnail, and my cover picture, and I know how to copy & paste, just not this issue. I have Googled, Facebooked, and Yahooed myself to total aggravation!! HELP ME DAVE, please!
Sounds like you've definitely done your homework, and then some, but I think you're going to be surprised at just how easy it is to add images, photos, graphics, figures or illustrations to a Facebook status update at the end of the day. The key thing to realize is that there are two steps involved in the process: finding and saving the image you seek on your computer, then including that image on the Facebook posting itself.
For the former, it's advisable to use your own images or photos because then you don't have any issues with copyright or intellectual property ownership, but that doesn't always work out. No worries, I'm a big fan of Google Image Search, where you can type in a description of the type of image you want — like "snoopy happy dance" — and save your favorite of the results it shows, for later use on Facebook. That doesn't indemnify you from copyright issues, but if you're just posting to Facebook, it's probably not that big a deal.
Once you have an image or photograph, then jump over to Facebook on your computer (Mac or PC, it's the same basic process). Type in the textual part of your post, like this:

See the little camera icon along the bottom? Click on it to add a photo or image.
Your Web browser will pop up a file selection dialog window:

You can see I'm picking "cute-kitty.jpg". I mean, everyone likes pictures of cute kittens, right?
Chose the image you want, click "Open" and it'll upload to Facebook, during which time you'll see a progress indicator: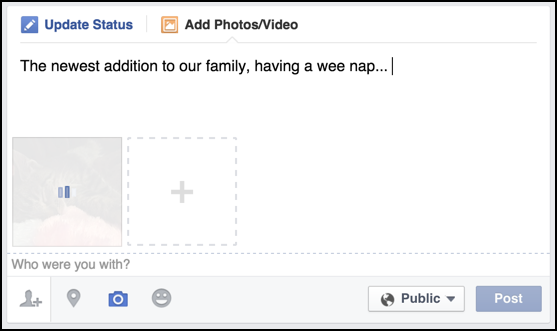 Once it's done uploading (which can take a while if you have a really big source image) the image shows up as a thumbnail.
Notice you can have more than one image associated with a post too if you'd rather select two or more…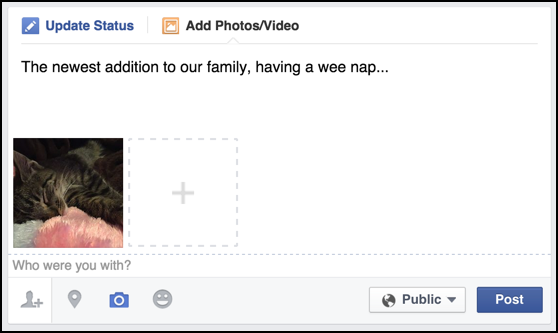 At this point you can add additional images by clicking on the big empty square with the "+" or clicking again on the camera icon.
The other icons along the bottom let you, left to right, tag people who are in the image or associated with the status update, tag the location of the image or your post, add an image, and add emoticons, stickers and other related imagery. The "Public" button can also be clicked and adjusted if you'd rather a post be only visible to your friends or even a subset of Facebook friends.
I'll just post this image, so click on "Post".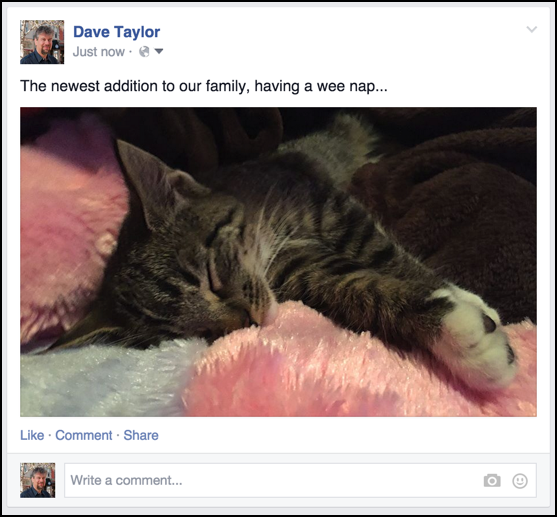 That's all there is to it. And if you want a handy shortcut, turns out you can actually drag photos and other images directly onto the status update area of your Web browser when you're writing the update. Even easier!
Hope that helps you add birthday clip art, bouquets of flowers and dancing Snoopy to your own Facebook posts!