I like to have everything consolidated into a single view, which is why it's frustrating that I can't get Facebook events to automatically show up on my MacBook iCal [Calendar] program. Or is there a way to hook them up?
Turns out that you can indeed subscribe to your Facebook event calendar from within the Calendar program on your Mac system! In fact, the functionality has been there for so long that I last wrote about how to do this back in 2010. Of course, things have changed in the last nine years of Facebook user interface evolution so it's time to update this tutorial, not just point you to the old post and say "go read it". 🙂
The key concept is "subscribe": once you realize that the Calendar program can grab event data from anywhere online, it really becomes more about finding the subscription link on the Facebook page than anything else. And that, rather predictably, is not easy to find.
So let's just jump into it. Start by logging in to your Facebook account. I'll be going through the steps based on the Web interface, but it's a [fairly] similar process if you just want  to stick with mobile. On the home page you'll see an "Explore" box on the left side. In that box is "Events":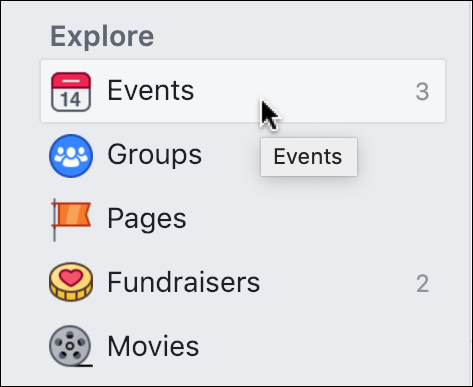 Choose Events (you can always go back and explore the other areas later, right?).
Still looking on the left side, there are now a bunch of different Event categories listed. Choose "Calendar":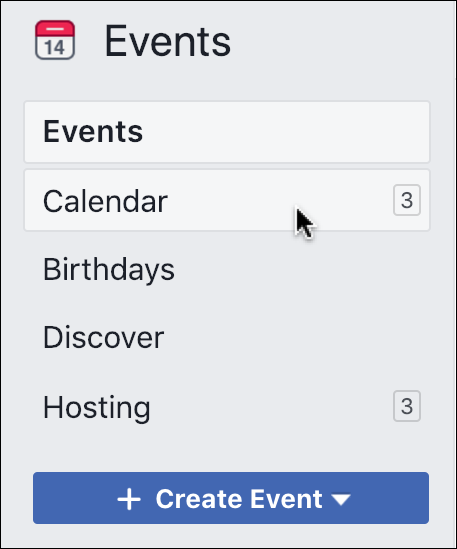 Now we're going to have to move to the other side of the screen. Look on the right side of your Facebook Events Calendar for this:
That's the subscribe link: "Upcoming Events". Subtle, eh? There's a second calendar choice too: "Birthdays". To subscribe to your Upcoming Events calendar, for example, simply click on it. An .ICS file will be downloaded and should automatically open up Mac Calendar [iCal for you old school folk] and confirm import:
This is where Calendar is rather surprisingly sloppy; it's not a new event, it's a new calendar and it shouldn't have a destination calendar, it should prompt for you to create the new calendar. Anyway, we can fix it all.
Note: Calendar didn't automatically open up that .ICS file? Find it in Downloads and double-click!
Instead of just accepting the default calendar, click to choose that menu. You'll see all your calendars (yes, I have a lot) and the option to create a new calendar:
As highlighted, choose "New Calendar", the very bottom option, and let Calendar do its thing.
After a few moments, it'll create a new calendar for you similar to my "Dave Taylor's Facebook Calendar". Your specific FB events should now show up on your calendar.
But we're not quite done. Let's fix the name and display color. To do that, right-click (oops, sorry, Control-click) on the new menu name and choose "Get Info":
The Get Info box shows a number of options:
I'm just going to rename this calendar "Facebook Calendar" to make life easy, skip the description and use the tiny color box to choose something other than the same green I'm already using for a different calendar. Yes, color coding is your friend!
Click on "Calendar Info…" so you can also check how frequently the calendar info should be updated:
Checking every 5-15 minutes is madness (does anyone's calendar change that frequently?) but hourly is reasonable, or you can leave the default option of "Push" and see how it goes.
And that's it. You now have your Facebook events showing up on your Mac Calendar, hopefully in a unique color and with reasonably frequent updates to ensure you stay up-to-date with event changes!
Pro Tip: Please check out AskDaveTaylor on Facebook and also check out our extensive Mac help and Facebook help areas here on the site too. Thanks!