The boss wants us to all use Outlook.com so I'm getting used to it. My question: how can I add a custom signature to my account so that every new message automatically has my signature included?
Outlook.com, also known as Live.com Email, is a second (third?) generation webmail interface from the Microsoft team and it's quite well done, quite elegant. Just as importantly, it's integrated into Office 365 so it's easy to access your Word online documents and other content through OneDrive, etc. We've also had email around for long enough now that the core functionality is very well understood so you should find a ton of similarities between Google's Gmail, Yahoo Mail and Outlook.com.
So let me show you how to add a custom signature to your composition window in Outlook.com but also point out a couple of useful areas and features along the way too.
To start, you'll want to log in to your account. The top will look like this:

It's a bit of an odd icon, but the little smiley on the top right doesn't actually bring up a tiny window full of emoticons but rather displays your address book, as you can see: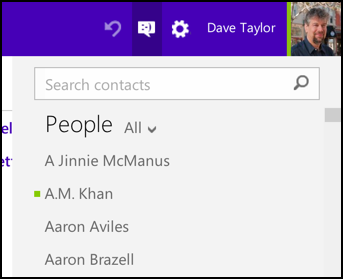 What you want, however, is the gear icon adjacent to the smiley on the top right.
Click on the gear icon and a bunch of options show up.
The fun thing you can do here is change the color and accents on your Outlook.com page. Notice I've already changed mine from purple to orange by simply clicking on the color swatch. Easy enough!
Further down on the menu is "Options". That's what you'll want to click on after you try out different colors!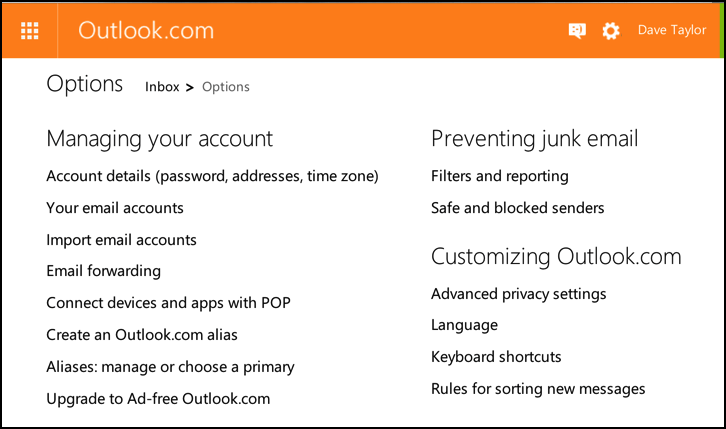 That's a lot of choices, but what you want is actually lower down on the options page.
Further down on the list, you'll see composition and reading options: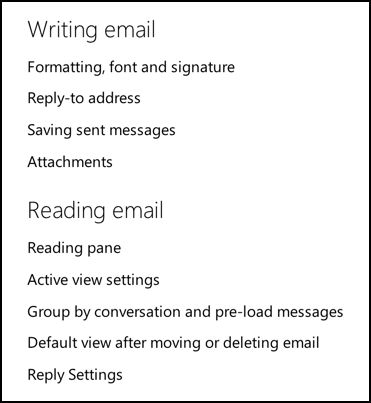 There it is, the first option under "Writing email".
Choose Formatting, font and signature and you'll see lower on the resultant page an input box for adding a signature. Heck, I already have one set up:
Lots of fancy formatting you can apply, as I demonstrate with my, um, colorful signature.
Done editing? Click "Save".
Now, when you go to compose a new message, the Personal signature will automatically show up in the Outlook.com compose window:
And that's how you do it.