Dave, looks like Facebook's added something new, a bio section and featured photos. What's the scoop, and how do I add them to my own profile?
I've said before, there's nothing as constant on the Internet as change, and with its billions of active users (yes, that's a "b" there, "billions") Facebook is a prime example of the constancy of change. The latest change for Facebook users is that you can now add a short bio that's really a short summary (think Twitter bio) and additionally choose some of the photos you already have online to make "featured photos".
The purpose? To help other people find you and to help them ensure that when they search for your name, that it's the correct "you" that they find when they send a friend request or similar. Smart idea, really, and given that you've already probably given Facebook lots of info — and uploaded lots of photos — the process is super easy because there are already suggested words for the bio and photos for the featured photos!
If you're lucky, the easy way to add a bio is to simply wait until you see a reminder on your Facebook news feed (note: this is from the Web-based interface on a Mac, the experience on a mobile device might be quite different):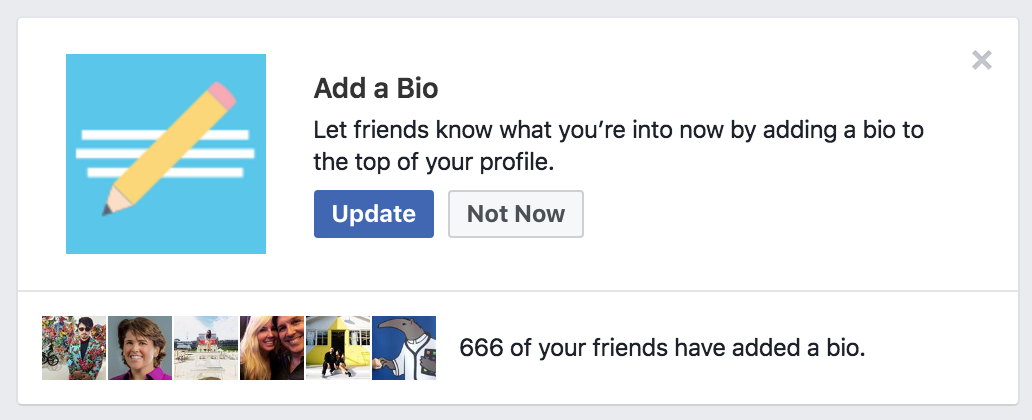 Proceed by clicking on "Update" , or if you decide not to do so at that point, the reminder will show up again eventually. Or you can just find the right spot, which is easy too: Click on your name on the top left portion of the window: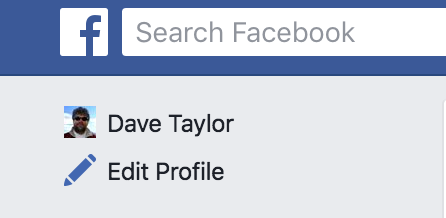 Then look on the left side and you'll see the new bio box with its proposed wording:
Here Facebook calls it an "Intro", which is a bit confusing, but it's the same thing, no worries. To edit the wording, simply click on the box itself and it'll show up as an editable box:
Here notice that mine is too long! The "-16" on the lower right is a character count which makes it very clear that this is intended to be like a Tweet on Twitter: short, short, short. 🙂
To fix it, I'm just going to remove the words "social media gadfly", which makes the length acceptable to The Facebooks and suddenly it's inviting me to share the bio on my News Feed:
Oh sure, why not? I click to "slide" the control that lets Facebook share my snazzy new bio / intro with my friends who are also online. Now I can click "Save":
Looks good to me! A click on "Save" and I now have a bio / intro to my Facebook profile. Very exciting! 🙂
A bit further down on my profile, there's also another new section labeled "Featured Photos":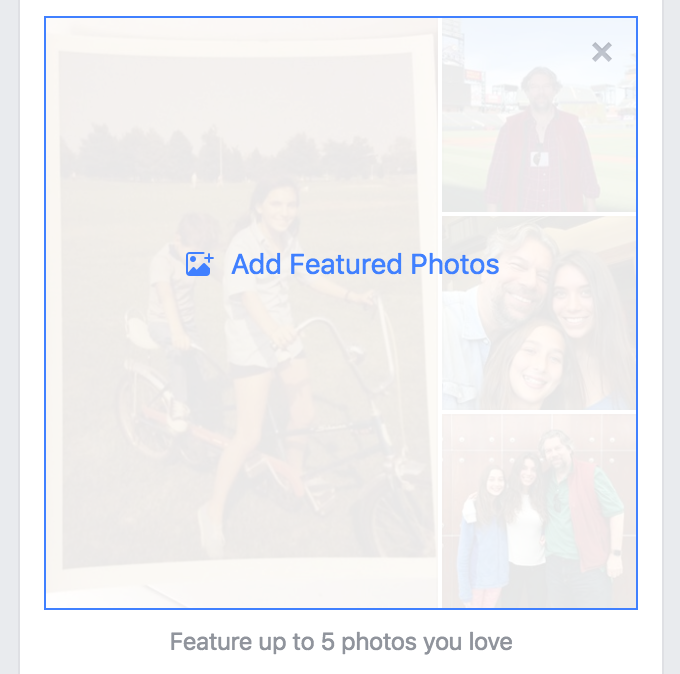 Again, Facebook has already analyzed my photos and pre-selected some which you can just barely see in the greyed out area. They're not bad selections, but need to be approved, so click on "Add Featured Photos" and a small box pops up with the suggestions:
They're decent, but I can do better, so I'll get rid of #1 and #2 by clicking on the white "X" on the top right of each thumbnail. Then new photos can be selected and added by clicking on the empty box (the rightmost box above also shows how a box without a photo selected appears).
A click on a blank box and a photo selector appears: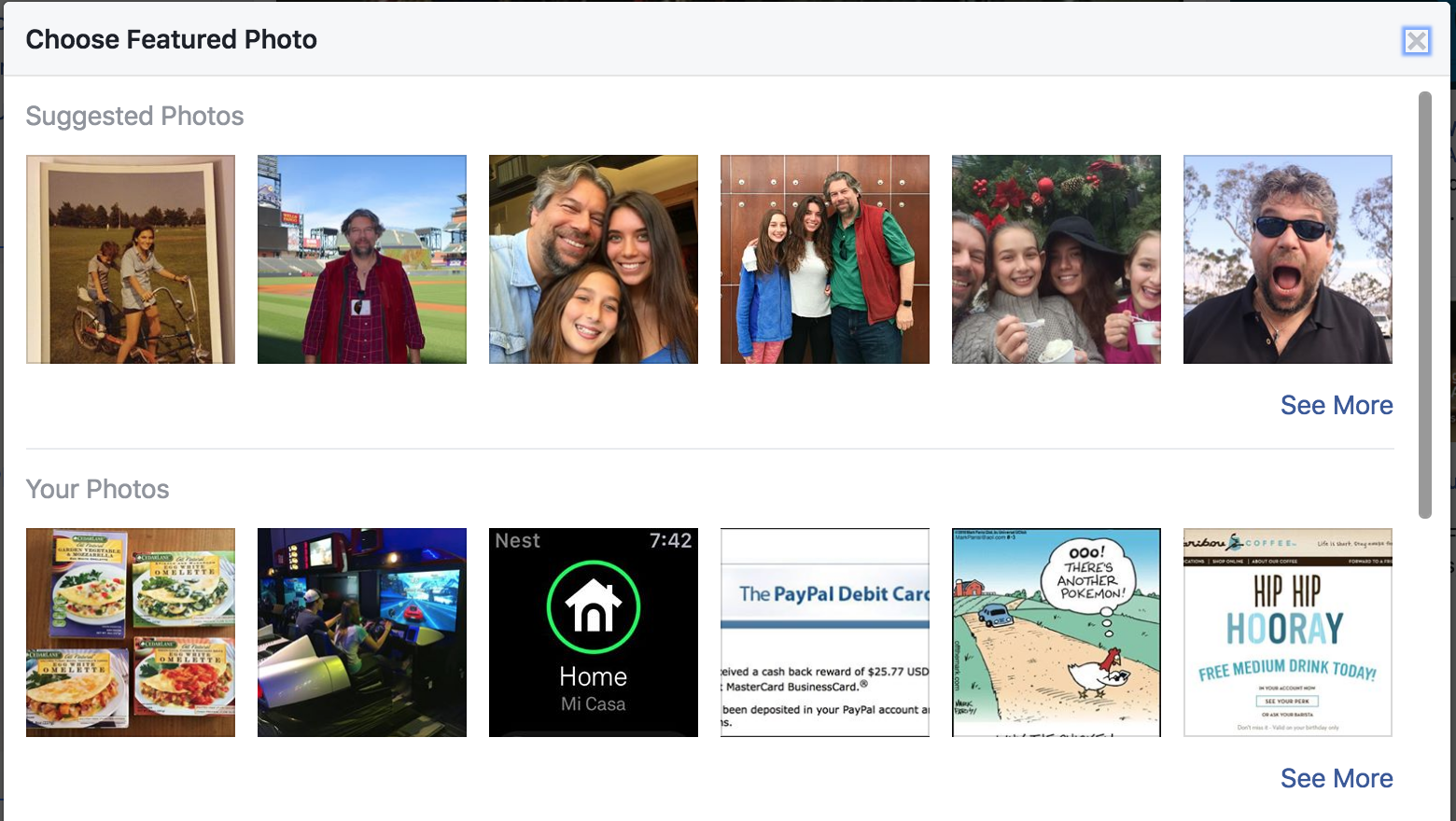 Lots to browse (don't forget to scroll downward in this box and click on "See More" if it's a category with lots of images from which you can select). Finally, you should end up with five images, at which point you're ready to select them all as your Featured Photos: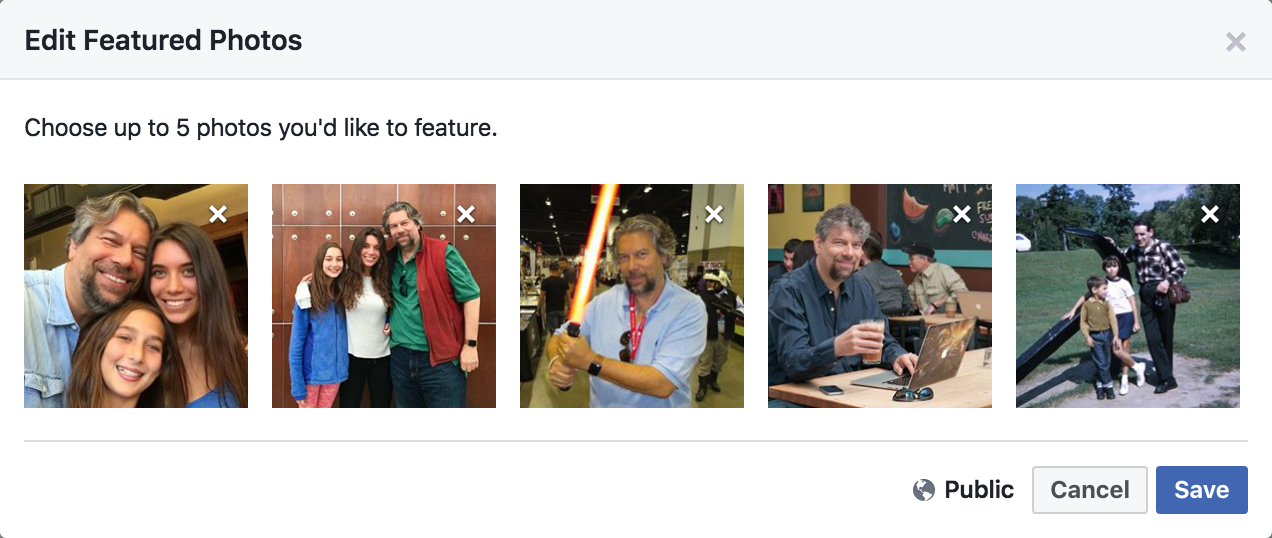 Looks good! A click on "Save" and I now have a Featured Photos montage on my profile: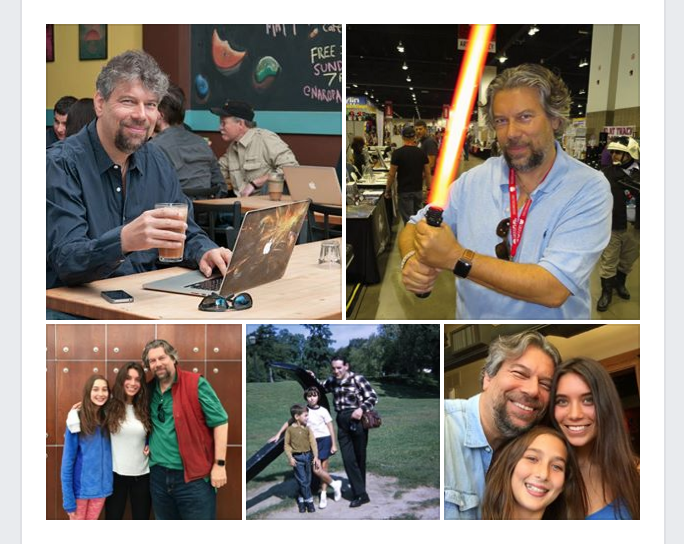 Rather a fun exercise, actually, and you can update both the bio and featured photos whenever you'd like by simply clicking on your name on any Facebook page, then clicking on the specific section.
Now, while we're talking about Facebook, why not follow me on Facebook too? I'm AskDaveTaylor on Facebook. Thanks!