How do I add someone as a second administrator or moderator to my new Facebook group?
Most people don't seem to realize that Facebook has a really powerful administrative backend for its groups, letting you add as many admins, moderators or even advertisers as you'd like (the advertisers get access to the group analytics but not much else). The only requirement is that the person already be a member of the group before you start.
Actually, businesses are often confused about this facet of Facebook because advertisers, pr professionals and marketing old-timers want to create the Facebook business presence, but not get on Facebook themselves. Unfortunately, that ain't how it works. Every Facebook business page, whether it's a group, fan page or actual business Facebook presence, is anchored by individual accounts of the people who are working behind the scenes. So when you see the Starbucks or Sony pages, there was originally a person at the firm — or its agency — that logged in to Facebook, then leapfrogged from that onto the business page.
This also means that smart companies insist of having a lot of page owners and administrators because a huge firm like Sony doesn't want to be at the mercy of an individual employee who might decide that the password is worth a lotta money now that there are 5.3mil fans. (not that this has happened, but that's why spreading the responsibility is smart).
When you're an admin on a Facebook group, the top of your group home page is going to always look like this:

To promote someone from a member of the group to a more important position, you'll want to choose "Edit Page".
The menu gives you a big clue: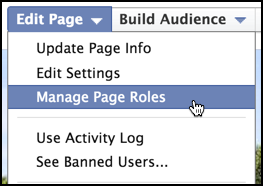 Yup, choose "Manage Page Roles".
Now you'll see yourself and whomever else might have been identified in a non-member role. For my Tom Sawyer test group, it looks like this for me:
I can't change my own role (which means the original creator of a page can't ever be booted, as far as I know)
Note the "Add Another Person" link. Heck, click on it, don't note it!

To add someone, all you need to do is type in their name (or email), as shown. But what about the role? What's "Editor"?
Turns out there are a bunch of different roles to choose from: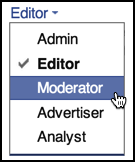 And yes, that's darn confusing. What's the difference? Facebook has this helpful reference table:
Got it?
For the Tom Sawyer page, I'm going to add my friend Kim as a Moderator. Look at the table above to see what she'll be able to do:

That's it. Pick the roles, add the people, click "Save" and you're just spread the workload of managing your Facebook group. Nicely done.
Have more Facebook questions? Check out my extensive Facebook help or ask if you don't see the answer.