Every so often my PC slows way down and I don't know why. I'd like to have a performance monitor running all the time so I can glance and see if it's maxing out the CPU, disk or something else. What are my options?
Analyzing the usage of your PC is a smart idea in terms of trying to get a sense of what might be causing a slowdown. Probably it's a background program that's been greedy in its use of resources, but I'm always suspicious of potential malware or similar. My first step is always a full, deep antivirus scan. If you have a commercial app, use that – and consider booting off the included CDROM if that's an option – but if not, Microsoft Windows Defender can do a full scan too.
Once you've ensured that's not a problem, it turns out that there are two primary options for having a performance monitor window on your PC screen, one that's perhaps more functional but the other of which is considerably more cool looking. The easy one is the performance monitor in Task Manager, and the sleeker solution is part of the Xbox Game Bar…
Task Manager Performance Window
Jump to your Windows search feature on the Taskbar and search for "task manager". Here's what'll pop up: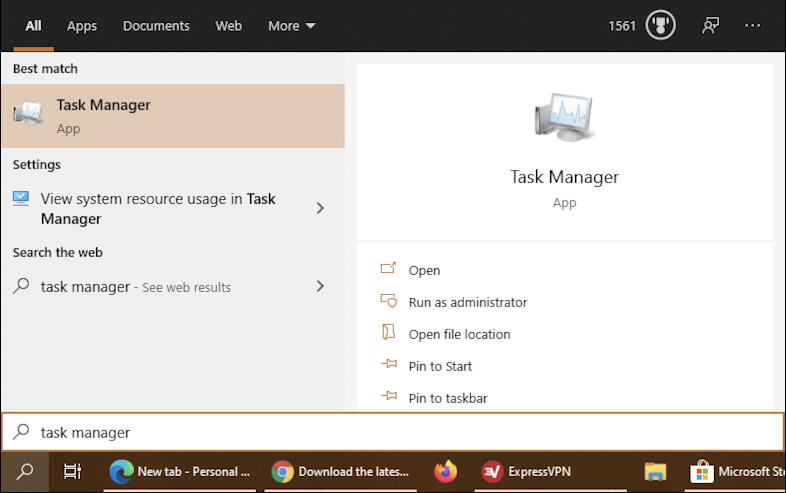 You can see the match: "Task Manager". Click on that and you'll see the standard Windows performance monitor, listing each and every program running and how many resources it's utilizing. Enable "Always on top" from the Options menu, as shown:

Now it's easy; click on the "Performance" tab and use the size handles to reduce the resultant window down:
Informative, but big. You can try shrinking it down further and clicking and dragging the pane divider to reduce it, but really, the Xbox display is way more interesting. Quit Task Manager and let's have a look…
Xbox Game Bar Performance Monitor
Ready to up your game? Support for the Xbox system is now a part of Windows 10 and part of that is a really slick performance monitor. Using the same Taskbar search approach, look for "xbox game bar" and fire it up.
NOTE: If nothing happens, you might need to enable Xbox Game Bar in your Control Panel settings. Search instead for "enable xbox game bar" and it'll drop you right to the spot with a single click.
Lots of little windows will appear all over your screen: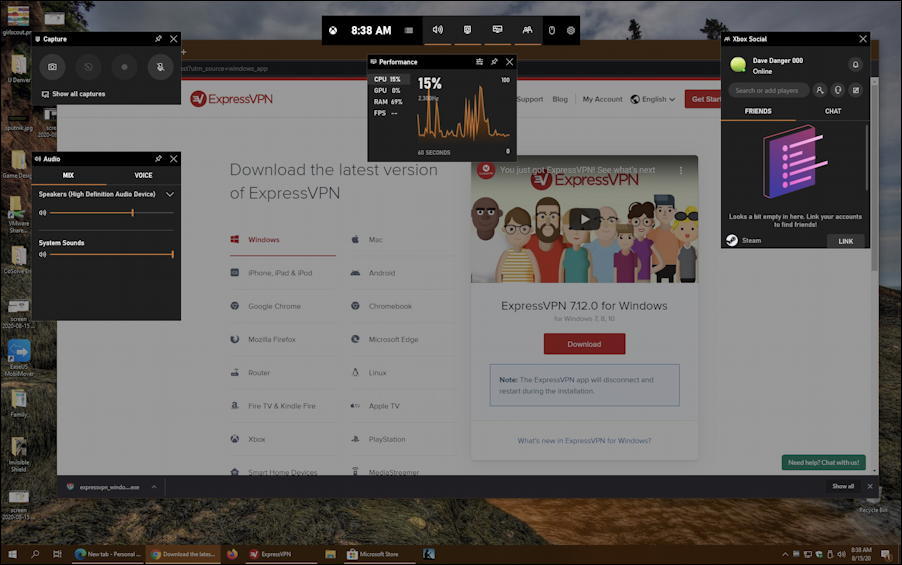 The long skinny window on the top center is the main one, but you can ignore it because just below that is the performance monitor and you can already see it's darn attractive! A closer look:
Click on the thumbtack icon to pin it to the screen, then click and drag to put it in a corner. Then click anywhere else on your screen and the top bar will vanish, leaving a minimal window for the performance monitor:
Still too big? You can double click and it'll shrink down to just the numbers:

FPS, by the way, is frames per second and it's a measure of your graphics performance for games. Enabling it involves some admin tweaks (as the program explains if you go to settings). Done with the Xbox Game Bar? [windows]+G will make it go away.
That's it. Two different ways to watch your system performance even as you do other tasks. Hope that helps you figure out what's going on with your PC!
Pro Tip: I've been writing about Windows for quite a while. Please do check out my extensive Windows help library for hundreds of other useful tutorials, all free, all printer-friendly too. Thanks.