Now that I'm wearing an Apple Watch, I'd like to understand a bit more about how the Activity Monitor works. How do I find the display? How do I enable it in "exercise" mode?
Congrats on your new Apple Watch! Did you get an Apple Watch Sport or Edition version? The good news: they all work the same, so the differences at this point are all purely cosmetic (though somewhere in early 2016 Apple will be releasing Apple Watch 2.0 which I expect will have better sensors and mostly a better battery. I mean, really, what else can they add to the device?)
The Activity Monitor is tied to all the various sensors in the watch and keep track of your calories burned, number of hours each day that you stand up (for couch potatoes or desk jockeys) and time spent doing exercise (e.g., in "exercise" mode). You can set specific goals in the Activity Monitor app on your iPhone, but let's just stay focused on the Apple Watch itself.
To start, here's my Apple Watch Sport showing the time:
That's my Dad from when he was in the RAF, if you're curious. 🙂
From this point, swipe up and you get to the "gadgets" on the Watch. My default is battery power:
Here's where it gets interesting, though: Swipe side to side and you'll find that there are all sorts of different screens you can display. Including, yes, the Activity Monitor: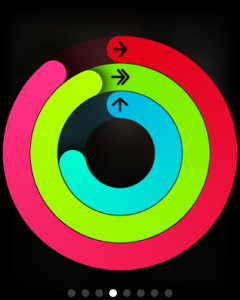 Tap on it to get the more detailed view.
Which is a bit confusing because it'll look almost exactly the same other than the addition of the word "Activity" on the top left:
The difference is that now you can swipe left to right and you're within Activity Monitor, so you get more information on how you're doing with each of the three measures tracked:
Not too bad, almost hit my 800 calorie/day goal and it's not even 5pm yet.
In this instance you can see that I've far exceeded the 30 min/day allotment by being at the gym for almost an hour. Good for me! 🙂
One more measure to consider:
As you can see, the Apple Watch tracks a lot about what you're doing in a given day, including how much exercise you get each day. Which reminds me, if you want to have it track your exercise, make sure you go into the fitness app and tell it when you're about to exercise. Look for the little running guy:
A tap on the running guy and you can now pick a specific exercise you want to measure:
That's all there is to it. Now you can use your Apple Watch to keep track of your daily activity, complete with fancy graphical displays. And me? I need to stand up right now so I hit my targets…