A few days ago, I wrote about two of the coolest things to do in RuneScape as you get really good: Dungeoneering and Pursing Quests in RuneScape. There's a lot more you can do that's fun, however, so this time I am going to give you three more options, three more cool ways to enjoy RuneScape and have fun: Creating an achievement diary, exploring the wilderness and checking out the action in the Falador party room.
Ready? Let's go!
A RuneScape Achievement Diary
Achievements are just simple things that you do like mining some clay or climbing to the highest point in Lumbridge or browsing the general store and stuff like that. When you complete one part of your diary like the beginner or the easy section then you can get rewarded for it. I don't really know where you have to go to get the rewards but you can ask Explorer Jack or Bob in the axe shop or anyone else that knows about the diary.
When you look on the map you will see these little green icons (they look like the quest ones but they are green instead of blue). When you see one of those icons it means there is someone there who you can ask about the diary. So if you want to start doing the things in your diary you can just click on the green little button (it's right beside your quest button).
You will notice that there are achievements for different areas.
If you are a free player you will be only be able to do the Lumbridge/Draynor area things. Well you can of course still do all of the things that the member part says but it just won't count for the diary and you won't get rewarded for it.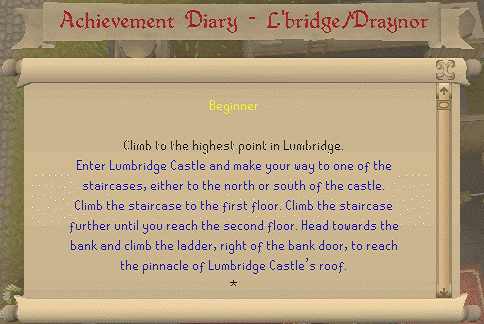 RuneScape: Example Achievement Diary
Members can do achievements in Varrock, Falador, Ardougne and other places.
If you click on the beginner section you will see that there are just some very simple things that almost anyone can do. Like browsing through the Lumbridge general store, mine some copper, tin or clay and other simple things like that.
Once you have done a section remember to go ask a person that has the green icon on the map where you can get your reward or maybe even rewards.
Exploring the RuneScape Wilderness
(not recommended for low levels)
The Wilderness is a wild and big stretch of land. There are all kinds of monsters like ghosts, vampires, giant rats, dragons, bandits, and other very dangerous stuff. It is usually very dark and dangerous in there and that's why I advise low level players not to go there because you can easily get lost or be killed by powerful monsters.
While you are in the Wilderness there will be a skull and a level number below it on your screen near your health points. The level number indicates what level the monsters are around you. But sometimes higher level monsters sneak into low level areas. For example I saw a level 81 ghost in a level 20 area.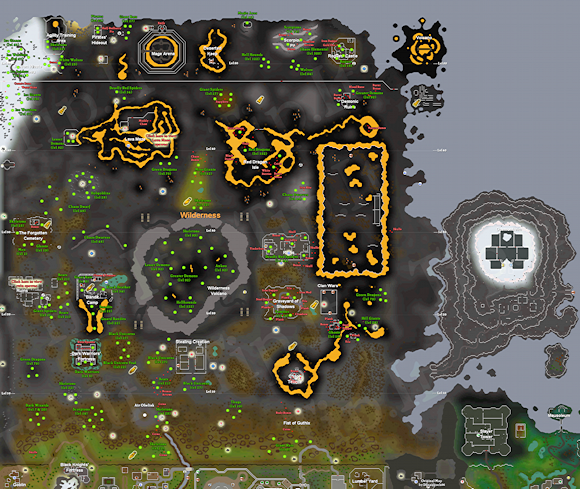 RuneScape: Wilderness (full map)
So now you're probably thinking what there is to do in the Wilderness with all those dangerous monsters around. You may have already guessed. FIGHT the monsters! I think that killing monsters that kill low level people while calling them noobs is one of the most fun things to do on RuneScape.
Some of the monsters will even talk to you and you can say something back to them. For example if you are trying to get into the bandit camp and you have to fight the bandits themselves on the way they will always say: "you shall not pass". Well say something back to them using chat like "hahahahaha ur dead noob" and see what they say back.
Falador Party Room
The Falador Party Room is a big party room where item drops happen. That means that if you are lucky you might get something valuable for FREE!
Before you go there you will have to go to a special world. Search for a world that says "Falador Party Room". Then once you are in the right world you will have to find your way to the party room itself (use the map to help you find it if you are walking).
When there is a very valuable drop happening, bankers all over the world will start talking about it. During a drop there will be party balloons falling all over the floor. Try to pop as many of them as you can.
RuneScape: The Falador Party Room – drop party
There are always lots of people in the party room so you have to be fast. When you pop a balloon something will usually pop up from the inside. Often it will be just something almost worthless like a pot or bronze dagger but if you are lucky then you could get something valuable.
There are very valuable items in the game like Halloween masks, Santa hats, Party hats, Easter eggs, Christmas crackers and other valuable stuff like that. But you probably won't have a chance to ever get one of those things. In fact, a Christmas cracker is currently the most valuable item in the game. It costs over 900,000,000 coins. So, have fun partying in the party room and hopefully you will get many valuable items.
This is part of an ongoing series of adventures you can enjoy in Jagex's RuneScape game, written by RuneScape fanatic Magic Uzer20. The previous installment was Dungeoneering and Pursing Quests in RuneScape.