I've been using the Web-based interface to Google's Gmail service on my iPhone 3GS and am wondering if there's a way to access some of the many folders (well, Google calls them labels, but I think of them as folders) I have set up from within that interface?
That's an interesting question, actually, because while Google's done a pretty decent job with the Gmail interface on the Apple iPhone, it's not the world's simplest application to use, particularly if you're an advanced user and have a bunch of folders, err, labels, set up to help organize and categorize your messages.
On Gmail, I have about 25 labels, and most of my email automatically routes to one or the other without ever sitting in my inbox. Google's vision is that their database search is sufficient to find and organize things, but my way of looking at the data is that I need my own taxonomy and organizational strategy.
Anyway, however you use Gmail, it's helpful to have a better sense of how to work with it on the iPhone, at least until Google releases a full-blown Gmail client for the device.
So let's assume you're looking at your inbox within Safari on your iPhone 3GS. It's going to look like this: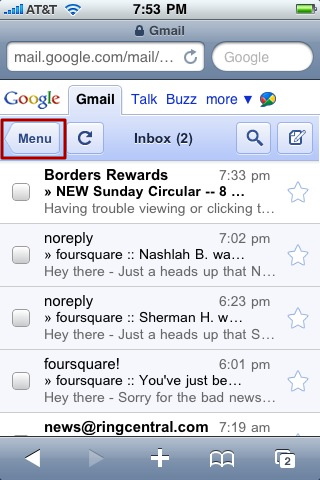 See the "Menu" button in the top left? I've highlighted it to make things easier. Tap on it, and you'll find that you've gone "up" a level to the default list of folders (uh, labels!):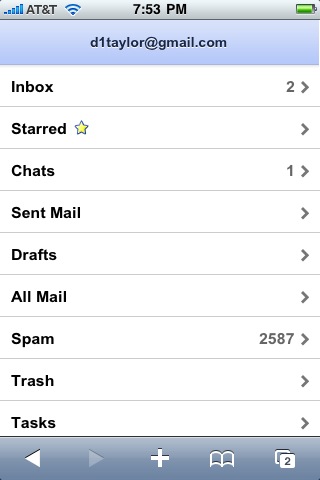 Here's the trick: swipe upwards to move below those labels and find your own custom labels / folders:
There ya go! Now, for example, if I tap on "Facebook", I'll find that there are two unread messages with that label (neither of which are in my Inbox):
Now ya know. My general rule of thumb with iPhone apps? Experiment. Tap on things, see what happens. Good luck!