I love my new Amazon Echo Alexa unit, but really wish it could access my Apple Calendar as I don't use Google Calendar. Is there any hope for me getting Alexa & iCal together?
Actually, you're in luck as Amazon just added support for the Alexa system working with the Apple iCloud ecosystem, which means, yes, your Amazon Echo can now interact with your iCal / Apple Calendar in really cool ways. In fact, not only can it read out your schedule to you on a given day, but you can actually add new events by just talking to your Echo. How cool is that?
Unfortunately I do also have to warn you that setup is pretty complicated because you have to not only authorize the connection between the Alexa app and your iCloud account, but it requires that you've already set up 2-step authentication on your iCloud account too. A move I support, but if you have to do it as part of the setup, well, it's a lot of steps.
To start, launch the Amazon Alexa app.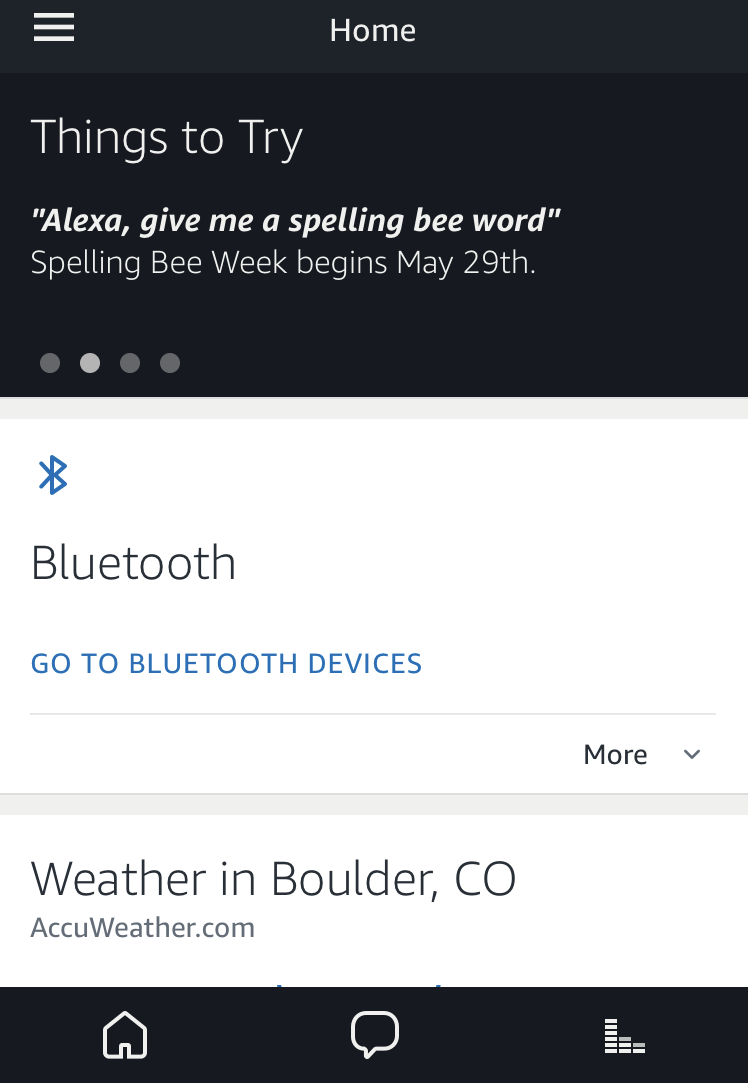 Now tap on the "hamburger" icon on the top left. No, really, that's what it's called, the three horizontal lines. Tap on it.
You should hopefully already be familiar with this as it's the main place you control your Alexa experience.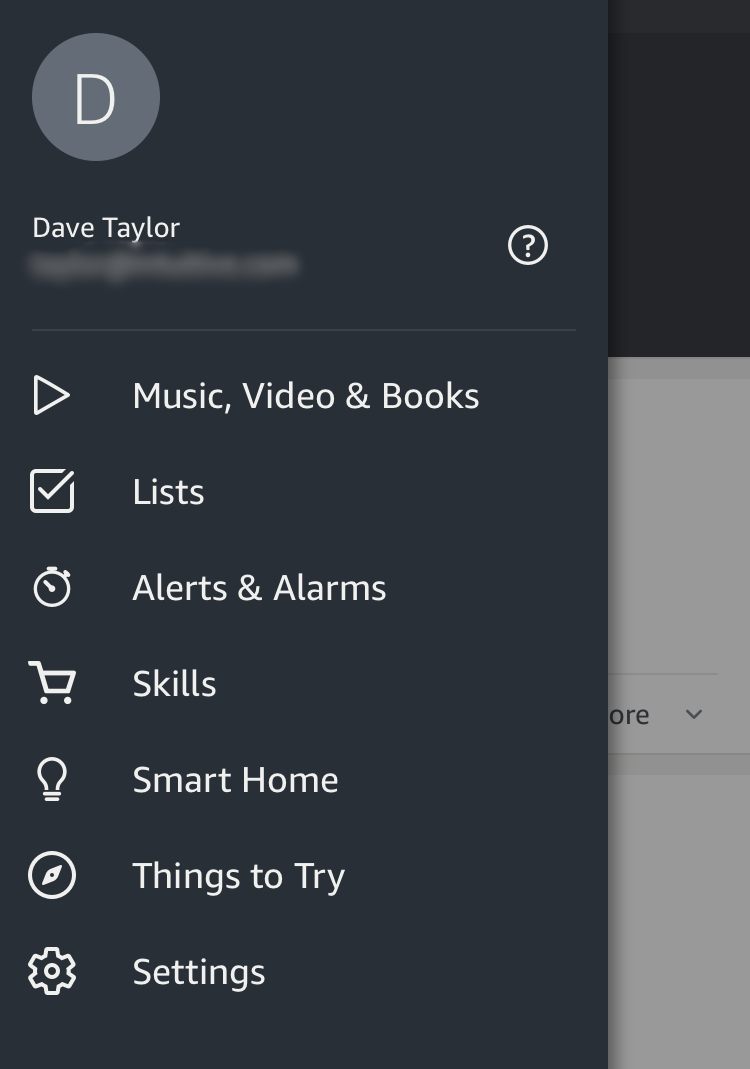 Lots to explore here, but stay focused! Tap on "Settings" to continue, then scroll down as needed to get to the "Accounts" area: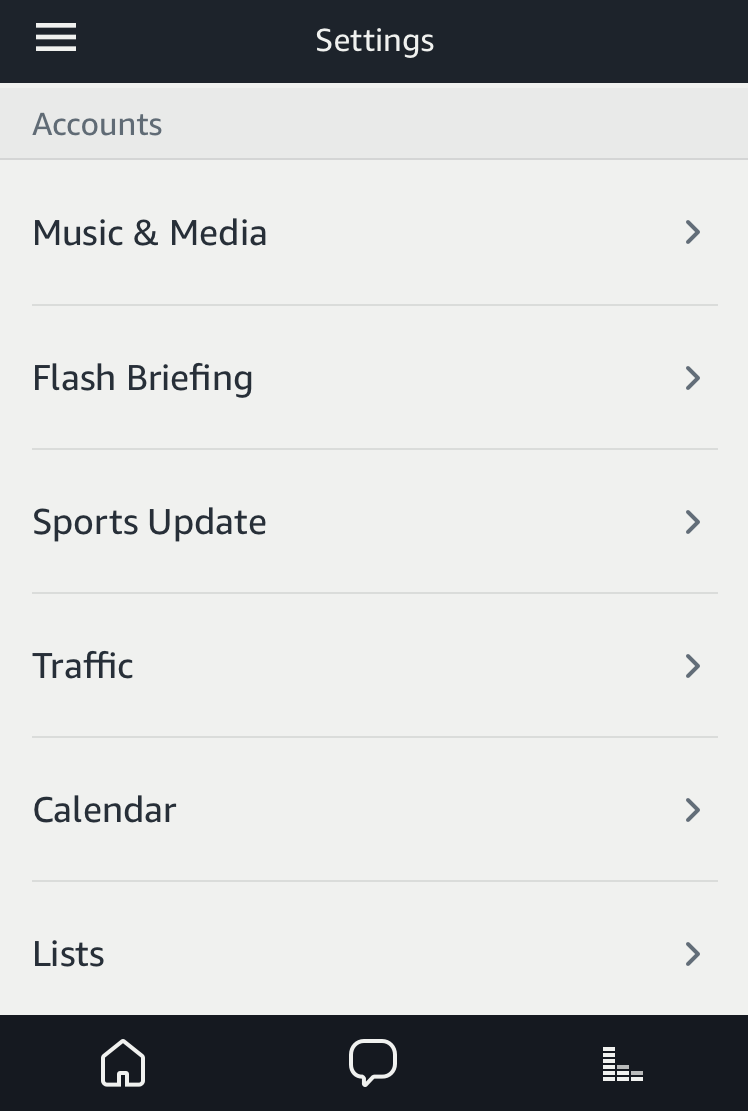 Notice here's where you can configure what news sources Alexa should use for your 'flash briefing', which I find a great way to catch up on news. Ditto the sports update and traffic information; this is where you customize them all for your travels, your workplace, your favorite sports and teams. Then you can say Alexa, flash briefing or Alexa, how's traffic?
What we're doing is tied to the Calendar, however, so tap on that. Here's what you'll see: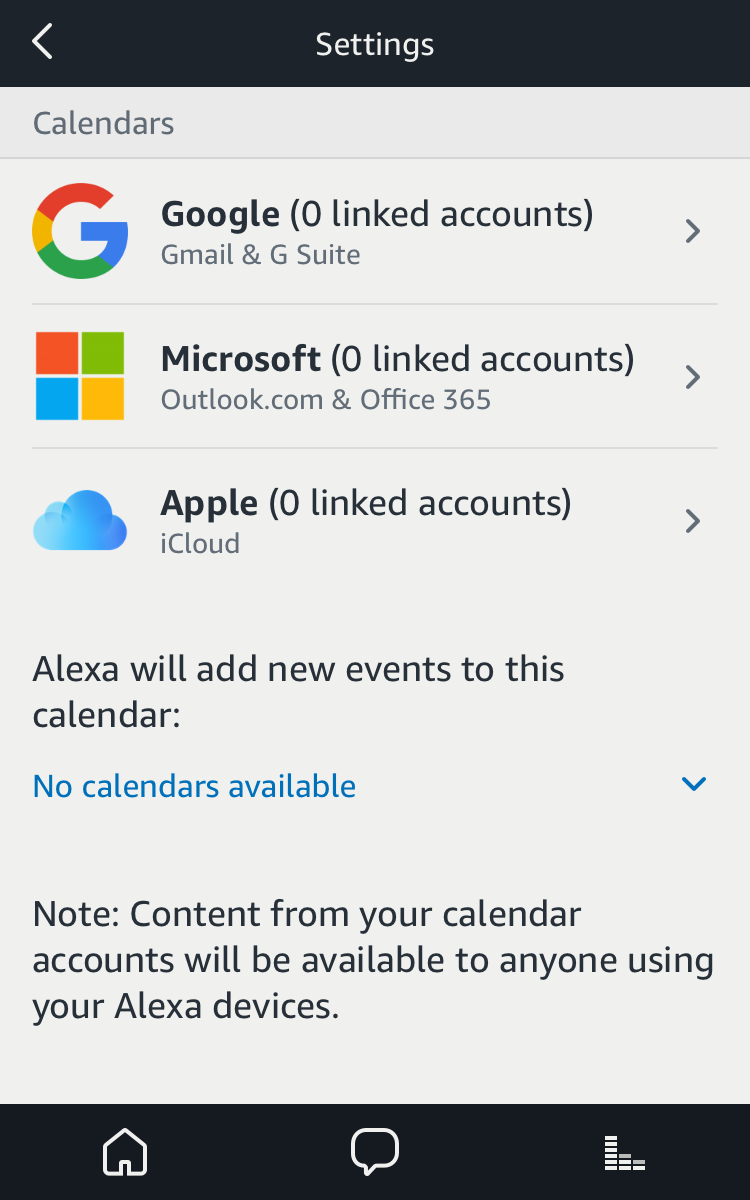 Note: if you don't see the Apple entry, make sure that you have the very latest version of the Alexa App and try restarting the app, or even your phone, to have this show up. Took me a few app restarts before it just.. poof.. showed up. A bit frustrating!
Tap on the Apple option to connect to your iCal calendar.
Now the fun begins!
If you haven't set up two factor authentication for your iCloud account, you can use their help or just read my article: How to Set Up 2-Factor Authentication on your iCloud Account.
Done? Got it working? Great. Tap on "Continue" to proceed to the next hurdle. 🙂
Here's where it gets more complicated because the Amazon Alexa app needs you to log in to your iCloud account, but with a temporary app password that you generate, not your usual password!
I just popped open a Web browser to generate the password, putting my smartphone aside for a moment or two. Go to Apple's iCloud.com and log in to start: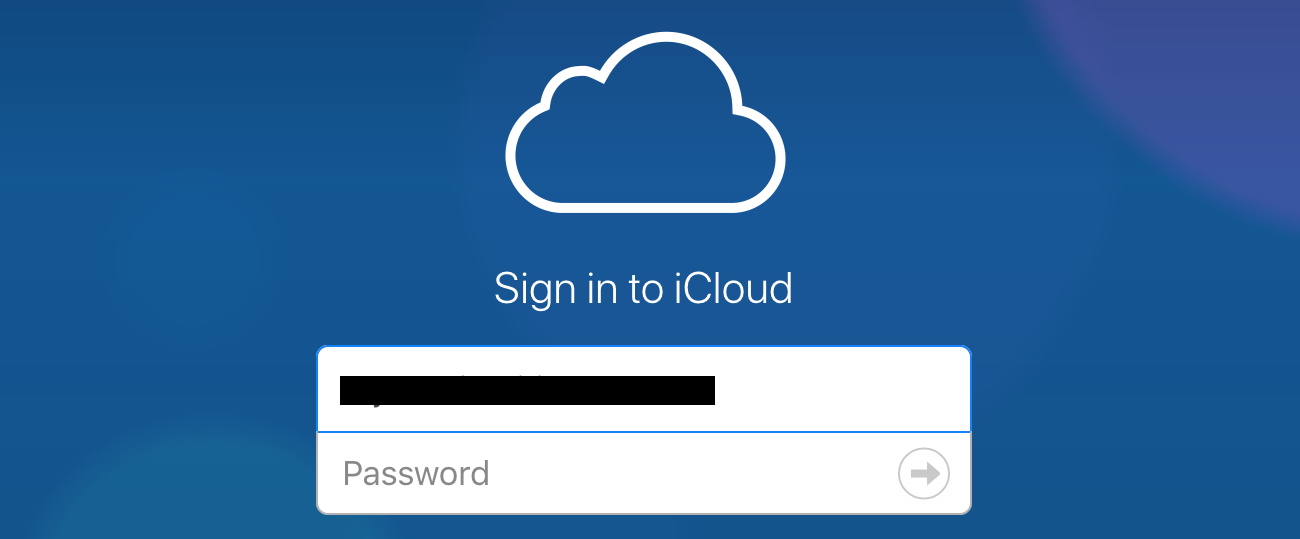 Once you're signed in, click on the Settings icon to go to "iCloud Settings". Part way down are the Security settings:

What you want to click on is the "Generate Password…" option on the lower right. A window will pop up letting you identify what app you'll be using the password for, though it's not required:

I named my "Amazon Alexa", logically enough. Enter it, click on "Create" on the lower right and you'll have an app-specific iCloud password generated and shown:
Before you get too excited, that's not actually the password iCloud generated for my account. I'm not going to make it that easy for someone to hack into my account!
Pick up your iPhone or Android phone, it's time to log in to your iCloud account within the Amazon Alexa app: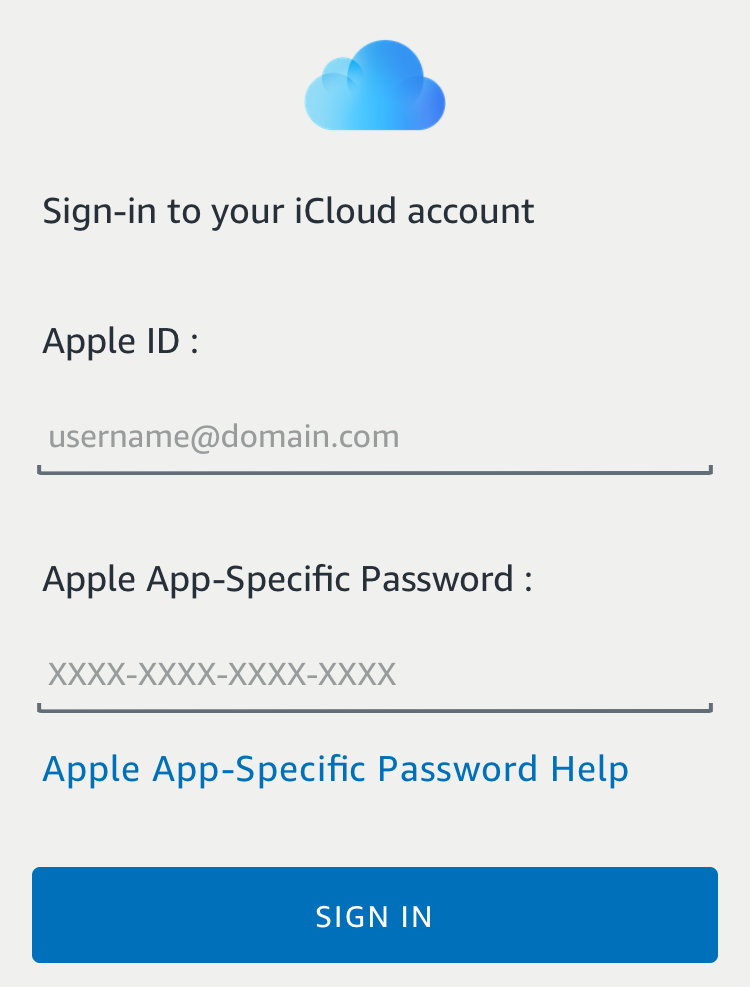 Notice that you'll need to enter the dashes as part of the app-specific password, so in my case, I'd enter yegm-soye-ikyv-ydev not just the letters of the password. It's tedious, I had to try twice before I entered it correctly!
Once you've entered your Apple ID and the app-specific password, tap on "Sign In". You're almost done!
Now a list of your calendars show up (I have a lot). You can give Alexa access to all of them but remember anyone who asks Alexa, what's on my calendar? will hear what's on the calendar, so think about what you'd like to make public to anyone in your home or office…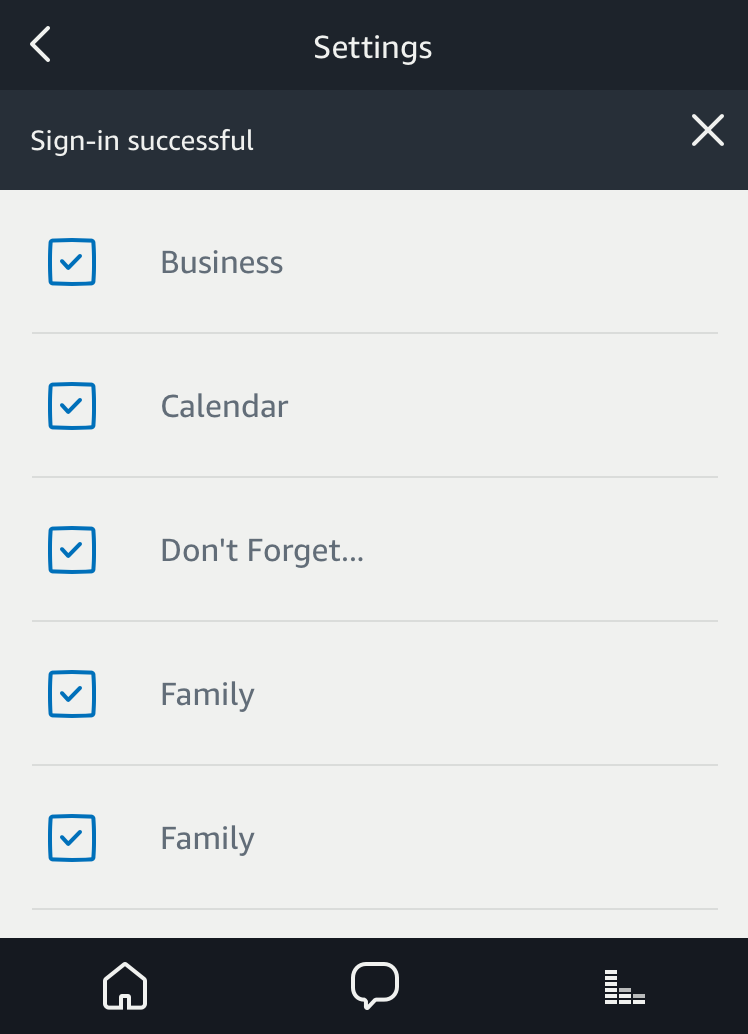 I'll work with all of my calendars, so tap on the "Continue" button on the bottom [not shown]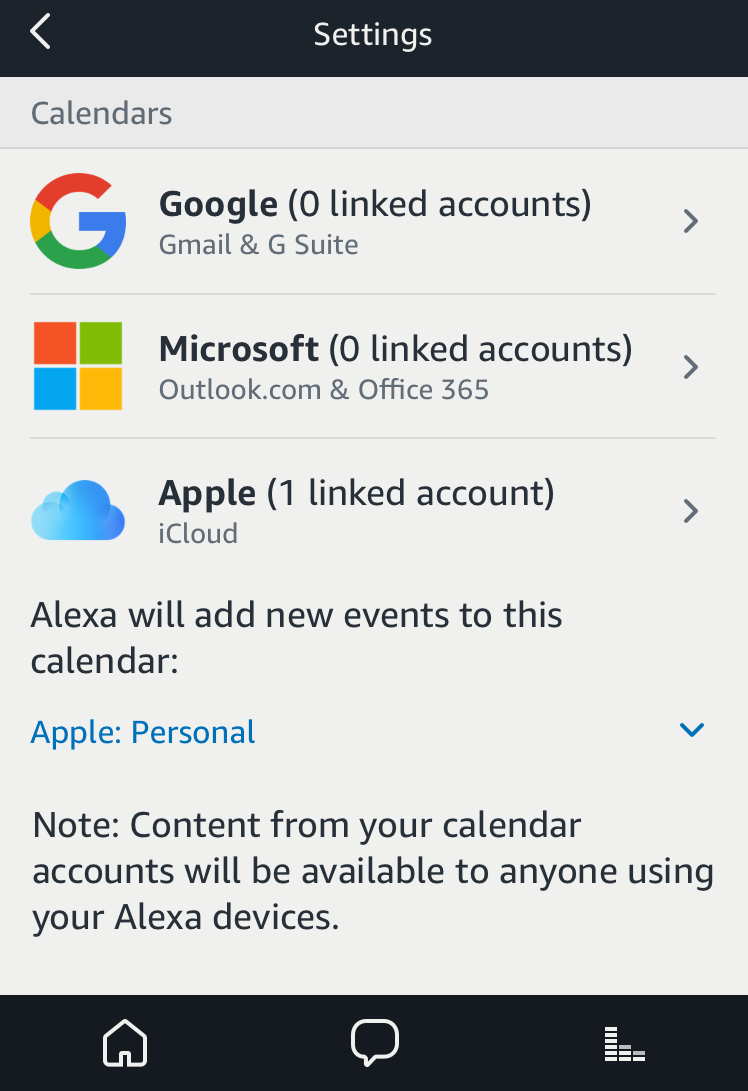 Notice you will also need to pick a calendar for new events – which I've done by choosing Apple: Personal – and you're good to go!
Now try a few things:
Alexa, what's on my calendar?
Alexa, add an event to my calendar for 4pm tomorrow.
Cool, eh? There's a lot more you can do, but now you can list events, add events, and, yes, delete events on your iCal / Apple Calendar directly through your Amazon Echo device!