My brother was teasing me the other day that there's a "hidden" start menu in Windows 11 and saying he uses it a lot more than the regular Start Menu. Is he just pulling my leg or is there really a hidden start menu in Windows?
It turns out that Windows 11 does indeed have a hidden start menu that's a much more compact – and less flashy – cousin of the standard Start Menu you've been using since you first booted into Windows. In fact, all modern operating systems have hidden features, typically called "power" features, that are accessed by pressing down one or more keys while clicking on an object. For example, in MacOS quite a lot of additional features appear if you hold down Option while clicking on things. In Windows, it's often just a matter of a left-click versus a right-click.
But who thinks to try all these key + click combinations? People who are eager to reveal all these secret features! To cut a long story short, if you right-click on the Start Menu button on your Taskbar, you'll get to the otherwise "hidden" start menu. Now you know. Let's look at it a bit more closely, however, because there are some pretty cool features worth exploring.
HOW TO LAUNCH THE HIDDEN WINDOWS 11 START MENU
Left-click (what I call a "normal" click) on the Start Menu icon on the Taskbar and it's no surprise when the Start Menu shows up: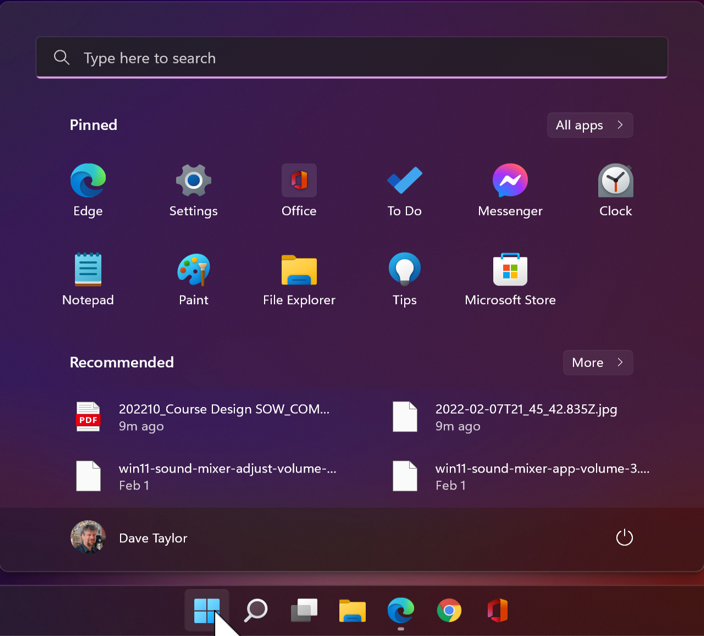 If you haven't used it before, that search box on the top is an absolute gem; you can search for anything including settings and preferences, documents, even TV shows. Try it!
But at the end of the day, this is the standard Start Menu, not something that's going to impress your brother.
Instead, right-click on the Start Menu icon on the Taskbar. A very different menu shows up: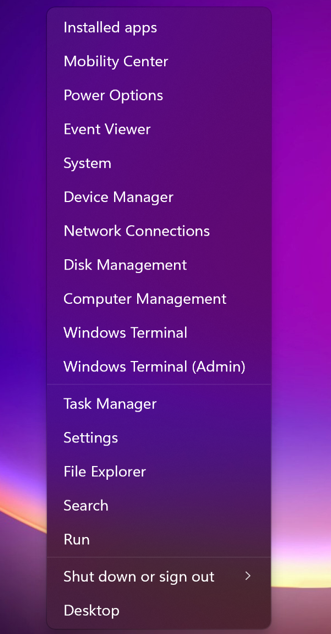 Mostly it's the same features and options, just as a simple text list rather than with all the fancy graphics. Not everything is easily accessed on the standard Start Menu, however, notably "Windows Terminal (Admin)" which makes it a breeze to fire up a Terminal Window in admin mode, as needed.
UTILITIES ACCESSIBLE FROM THE HIDDEN START MENU
A few of these options are worth a bit more investigation. Want to keep your computer running along for as long as possible? Then you definitely should pop into the "Power Options" window: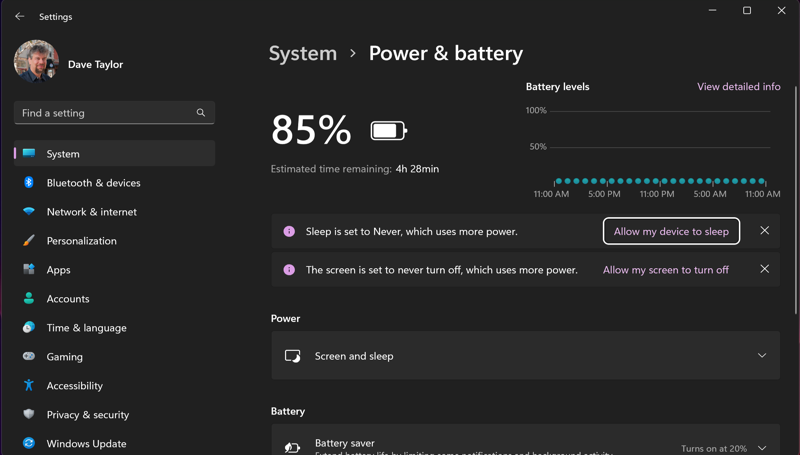 Yes, there are other ways to get to this Settings page, but isn't this shortcut convenient? Oh, and I really need to change my own settings to ensure that I allow my device to go to sleep after a certain amount of inactivity.
Another really interesting option, one that brings up a delightful retro, almost Windows 3.1 interface: "Disk Management":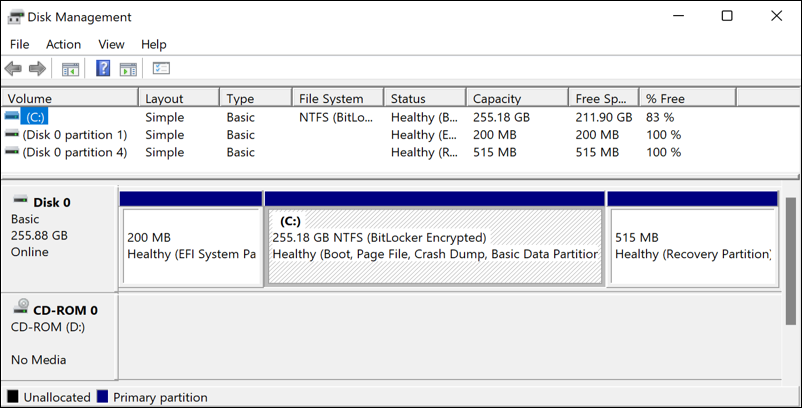 It's a bit startling that you can still get to these crufty old interface windows, but at least I can quick-check disk space utilization, identifying here that I have a very nice 83% free on my C: drive. Plenty of space!
Note: "Manage Disks and Volumes" replaces this with a new interface, though it's still clunky. Access it by searching in the "regular" Start Menu for "disk space".
Lots more to check out from this hidden menu, and note that it makes getting to your list of All Apps pretty dang easy (though that's easy from the regular Start Menu too).
CUSTOMIZE YOUR START MENU LAYOUT
Don't forget that if you prefer the regular Start Menu, there's a lot of customization you can do to make it work best for you, starting with the Settings option Personalization > Start: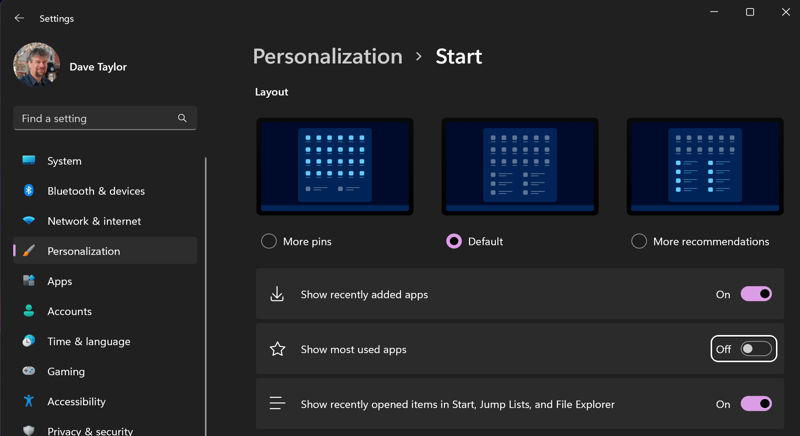 The best way to have it work for you is to switch to "More recommendations". You'll see, it makes it a breeze to pick up a task from the previous day!
I have a lot more ideas on how to customize your Windows 11 Start Menu in this tutorial too: Clean up and Customize your Windows 11 Start Menu. Please do check it out.
Helpful Tip: I've been writing about Windows for many years and have an extensive Windows 10 & Windows 11 help area. Please check it out to find lots of additional tutorials and guides while you're here. Thanks!