We're taking on the topic of the inevitable leak in your funnel: abandoned carts. It's a story all eCommerce professionals know. Your site is getting plenty of visitors each month and your traffic stats have never looked better. But your sales are not increasing to reflect that increase in traffic. What are you doing wrong?
After doing a little research, you find that your customers are adding products to their shopping cart but then simply disappearing. Well if this sounds familiar to you, you're not alone. In fact, over 70% of online consumers abandon their cart before checking out.
There are many reasons for this large number of abandonment. Whether it was related to cost, finding another product, or website errors it all factors in. But here's the good news, approximately 29% of abandoned products can be recovered through an abandoned cart strategy.
Let's look at seven different strategies that can help improve your abandoned cart conversion rates.
1. Predictive Personalization: Knowing What Your Customers Need
Personalization is a big trend in the marketing industry right now — and it's no different when it comes to abandoned cart emails. Personalized emails don't have to be super complicated. You don't have to know the person's full name, address, or college they graduated from. And in all honesty, it would be a little creepy if you served that information to them to make a personal connection.
By implementing a predictive personalization strategy, creating customer-specific abandoned cart emails is simple and within reach for companies of any size.
Predictive personalization strategies have been shown to improve revenue numbers by 22% and increase click-to-open-rates by 38%. This can be accomplished by knowing what your customers want, need and then tailoring product offerings and messaging directly to them. When we hear personalization and customization, we often envision a long drawn out process of manually segmenting customers.
But this isn't your traditional personalization process — insights are pulled from automated data-driven algorithms. With the help of a little Artificial Intelligence, you can have personalized content to serve your customers without having to spend time segmenting every single customer in your database.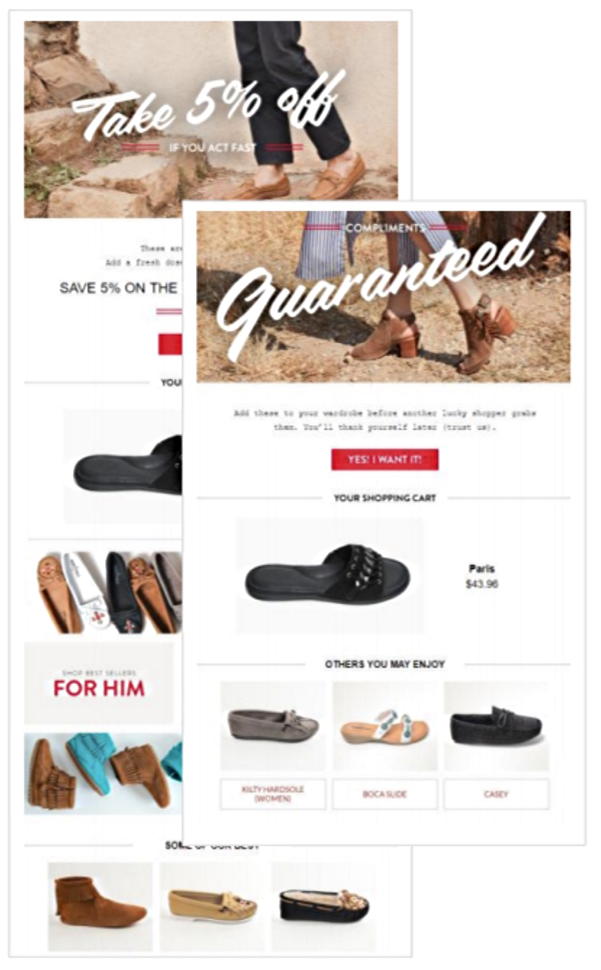 Shopping cart abandonment solutions require that predictive personalization is built into the overall strategy. These examples show customized emails that are sent to customers after they have abandoned their cart with customized product recommendations, copy, and discount offers.
This is a successful process when done properly and can boost your company revenue while offering your customers dynamic offers to meet their interests. The need to stand out to your customers and provide them with personalization will only continue to grow in years to come — now's the time to jump on the bandwagon.
2. Three Tries Until You're Out
In fact, three is the lucky number when it comes to abandoned cart emails. But, why three? Because each day, over 250 billion emails are sent. Is your one cart reminder email enough to break through the noise of all the emails and catch someone's attention?
Think of how many promotional emails you get on a daily basis. Do you read each one, or are you skimming the subject lines and then delete 9 out of 10 of those emails — most likely the latter. With a series of three emails, there's a higher chance of breaking through the noise and connecting with your customers.
Here one example of a few different emails that would appear in a three-part series.
The sequence of emails from Sephora are a great example of how a three-part series would work. Initially, after abandoning my cart, I received the first email. Not long after the second email appeared in my inbox. If I were to wait even a little longer, there is a good chance I will receive a third email in my inbox for this lipstick.
Now, you don't want to just immediately send your customers three emails reminding them about their shopping cart. That would be a little spammy and would likely drop your unsubscribe rates. But, that leads us into our next best practice — the timing of the three articles.
3. Timing is Key — Get it Right the First Time
The timing of your reminder emails is important. Many of the customers who purchase from abandoned cart emails will do so within the first 24 hours. But you also don't want to be too pushy or annoying when it comes to sending reminder and incentive emails.
So how do you walk that fine line between a helpful reminder and annoying spammy emails? Get the timing right…
Email 1: Send within 1-2 hours of the abandoned cart. This email should be a "Hey, we're just checking and wanted to remind you that the product in your cart is still available" reminder. This email should not come across as pushy or aggressive in any way.
Email 2: Send within 24 hours of the abandoned cart. Once it has been about a day since your visitor last heard from you, it's time to reach out again. This time, you can put a little more urgency behind the email, let them know their item is selling fast or begin to incentivize them with free shipping. A second email sent within 24 hours will yield an 18% click-through rate than one sent 48 hours or more after the initial abandonment.
Email 3: Send within 1 week of the abandoned cart. Email 3 is your last touch point with the customer. This will most likely be the email with the lowest conversion rate, but it offers you one last chance to push the sale. At this point, adding a little incentive, such as 10% their order, may encourage shoppers to complete the purchase.
This is an example of what the first email in an abandoned cart series would look like. Low pressure and a very simple reminder that you left their website with something still in your cart.
Image courtesy of Medium.
The Dollar Shave Club does a good job of sending a second follow-up that isn't too pushy and comes across as a more informative email. But, the call to action is clearly listed and their intent for this email is to try and talk you into joining their shave club.
Image courtesy of Medium.
This example would likely be one of the later emails sent out to customers. The messaging of this email feels a little more urgent telling the shopper that the item is still in stock, but might run out soon — so they better act fast.
4. Make a Great First Impression: Subject Lines Matter
Subject lines matter in any type of communication you are sending to your audiences. But when it comes to your abandoned cart strategy, you want a strong subject line that will catch the person's attention right away. Again, going back to the billions of emails that are sent every single day — you need to stand out from the crowd.
The subject line is the deciding factor for 64% of people on whether or not they are going to open an email — that's more than half of your potential customers. You've got to make that first impression count.
Here are a few great examples of subject lines that encourage higher open rates.
These are just a few of the common and most popular subject lines you'll see when receiving an abandoned cart email. The more creative and unique, the more likely shoppers are to click into the email and ultimately purchase the items in their cart.
5. Make Your Call to Action Irresistible
Call to action, another staple when it comes to converting people into customers on your website. If you send an email designed to get someone back to your website to complete their purchase and the call to action isn't easily accessible, you're wasting your time.
Put your call to action front and center and make sure people clearly know what action you want them to take. The better the call to action, the more likely you are to turn cart abandoners into customers.
Image courtesy of Really Good Emails.
Although this Google Store example is fairly simple in design and content, it has an easy to see call to action button. As soon as you open this email, your eyes are drawn right to the "view your cart" button.
Because this email offers such a simple design, it leaves no questions to the reader of what their next step is. They are either going to view their cart and check out, or they are going to delete the email and forget they wanted to purchase a new Google Wifi.
6. Offer a Discount They Can't Pass Up
Discounts are a great way to get someone back on your site to finish their purchase. You don't have to offer a 50% discount to bring people back. A simple 10% discount will get your email a 36.87% open rate and turn more shoppers into paying customers.
For shoppers who have become savvy to the abandoned cart game, they know a discount is coming and will add items to their cart and wait a day to receive your extra discount. As much as we don't want to give away revenue in this scenario, one slightly discounted sale is still better than none.
Image courtesy of Knowband.
This Kate Spade email is a great example of how to utilize a discount for an abandoned cart. They are sending a friendly reminder that you left something in your cart and offering a 15% off coupon code to entice you to come back.
They also did a great job with designing the email to get your eyes to go right where they want them, the 15% off promotion. For items like a designer handbag, an extra 15% off the items in a person's cart is probably going to convert a good number of customers.
If the shopper feels they are getting a good deal, say an extra $40-50 dollars off the purse they were looking at, they're much more likely to go back and make the purchase.
7. Trust and Credibility Go a Long Way
In a world where everyone is worried they'll be taken advantage of in the next big internet scam, trust and credibility are a big deal. If your emails come across as spammy or look like they could be a potential threat, you're not only going to lose that sale — but also that potential customer and email subscribers.
One easy way to build trust with your customers and potential customers is to send them testimonials or reviews and ratings on the products they left in their cart. This shows them that other people, similar to themselves, have taken the time to write a review on your product. The more someone can relate, the more likely they will feel safe purchasing your product.
97% of consumers say they have been influenced to purchase an item due to product reviews and ratings. This is a great way to not only build credibility in your product and brand but also make it a bit more compelling to shoppers.
Image courtesy of Behance.
Not only does this example by Dollar Shave Club have great style and tone, but it also provides a customer testimonials that match. If you were reading this email, you're most likely laughing at the reviews, but also relating on a personal level.
You can relate to the person who gave this testimonial and it makes the messaging more personal — you might even be picturing how good of a shave you, or your significant other, might have if they try these products.
Nail Down Your Abandoned Cart Strategy
Now that you've read through the seven most click-worthy abandoned cart email tips, it's time to get started on your own strategy! These tips will help get you started and quickly start increasing your digital sales.
Although abandoned carts will always haunt us in the eCommerce world. Providing customers with a more personalized experience and appealing to their wants and needs will help eliminate those high abandoned rates.