I use Aperture to manage and organize all my photos on my MacBook Air and also use the system for sync'ing with my iPhone 5. Is there an easy way to have all the 5-star rated photos in Aperture also show up on the phone?
The official Apple line on this question would be to use Photo Stream through iCloud, but there's a better way because Photo Stream is going to sync everything, whether your photos are great and rated 5-star or whether they're awful and rated 1-star (or worse). In fact, I had to turn the photo stream sync service off as I ended up with hundreds of crummy photos zipping around from device to device, eating up all my disk space.
Still, like most photo management tools, Aperture lets you easily rate your photos so you can extract just those with the highest ratings, and Aperture has another neat feature that makes it all far more helpful: Smart Albums. Most of what we'll do is in Aperture, actually.
Let's have a look, shall we?
To start, launch Aperture and choose New > Smart Album from the File menu:

Now it offers up a ton of options for picking and choosing which of the photos in your library you want in the new smart album: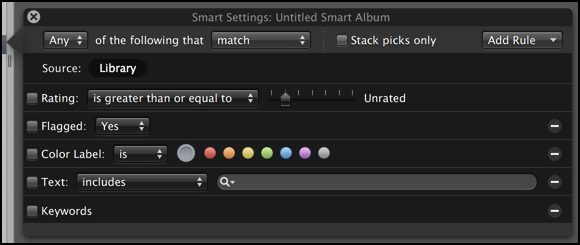 If you're just working with your own ratings, that's the second option, but as you can see, there are a bunch of different ways to make this work for you, including tagging based on keywords, text, label color, or even more than one rule that combines to get the subset you seek.
A closer view:

Since it's a modern app, as you change the ratings slider you'll see the display change behind.
Once you're done, it's a new Album:

You can see that I've also named the album "Five Star Pics".
That's done. Now as I work with my photos, I need simply rate them appropriately for them to instantly appear in the album.
To get them on your iPhone, simply plug in your phone, go into iTunes, and click on the "Photos" tab. Then do this: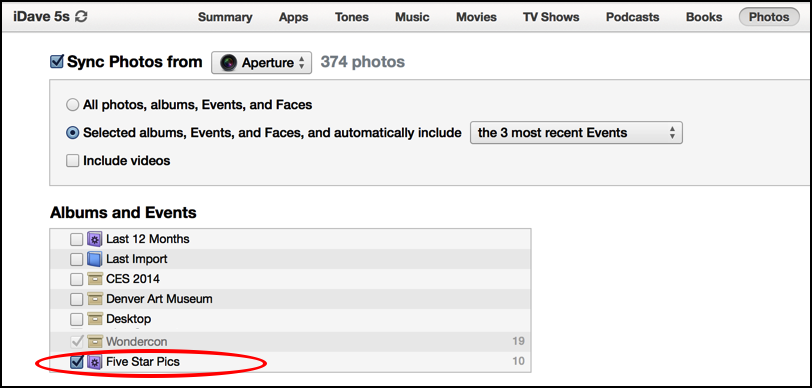 You can, of course, make other selections too. I like "3 most recent events" just to keep things lively.
Anyway, that's it. "Sync" and then on your iPhone (or iPad, of course), you're good to go, and each time you sync the device any new 5-star pics will also be copied across automatically. Simple enough.