January begins the same way, year after year. For over a decade, I've had the opportunity to travel with the Ask Dave Taylor team to CES, the Consumer Electronic Show in Las Vegas. Some assume I attend for the parties and although that is true, it's so much more than that. It's my time to dive deep into the latest technology trends, reconnect with some old friends and get to know potential clients. I've been fortunate to spend time with some of the smartest people in our industry at CES, debating the future of the latest trends, while reviewing some of the coolest gizmos and gadgets that have come to market. Every year brings new challenges, new opportunities and stories to tell. This year was no different.
As always, my journey to CES 2017 began with CES Unveiled, a press only event which is typically overcrowded, making it difficult to learn about the products and trends meant to be highlighted, but this year they remedied that issue. In the larger venue, I was free to grab a bite, see who won the CES Innovation awards and check out what my week had in store.
Typically, press day occurs before CES opens to the public and this year the exclusive reveal was extended over two days. While this approach allowed additional time for major vendors to share their latest innovations, there were still the usual long waits on line. Samsung tends to be one of the most exciting press events and this year did not disappoint. Samsung's newest refrigerator interface, Family Hub 2.0, is a perfect example of how this company is telling an integrated IoT story (Internet of Things) like
few can in the industry. Every time you close the door, the system takes a photo of everything in the fridge. So, when you are at the supermarket and can't recall if you have any milk, you simply take a look inside your own fridge by pulling up the image on your phone. Samsung is the best at solving first world problems. They've also integrated premier software partners into their platform including Spotify, iHeartRadio, Grubhub and many others so you can easily enjoy everything they have to offer from your kitchen. You can even display your favorite recipe while you cook!
As the show opens to the public, I start getting excited for Showstoppers, my favorite event each year. As soon as I walked in the door, I connected with Omnicharge, who showed me their Smart & Compact Portable Power Bank, one of the best designed products I've taken home from the show in a long while. It is truly the ultimate portable power solutions for professionals on the go. At 20,400 mAh, it charges my Macbook Air from almost 0% to 100% in just a few hours. It's equipped with 2 USB Fast-Charging ports, an AC/DC power outlet for charging or powering almost any device. At Showstoppers, they were running a TV on one.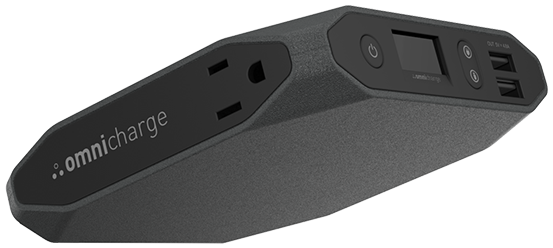 For the past few days, I've been working around town, exclusively charging my devices on it, including my computer and it's worked really well. I feel a sense of being untethered. As they are still funding on IndieGoGo, you can get one for 30% off their retail price of $299 by backing their campaign. They've raised three million (USD) so far and were the most-funded IndieGoGo tech project in 2016.
Also at Showstoppers, I stopped by the C.Crane booth and they handed me a pair of CC Buds Pro, with a built in mic. I've been loving them! Unlike other ear buds that are intended to play music, these buds were designed with conversation in mind. Colleagues tell me they can hear me better and I can absolutely hear them better. As an added plus, my music also sounds great.
Once the show begins, my first stop is typically the MyCharge booth, this year they handed me their RazorMax, which has a 6000mAh battery coupled with a high-end design and feel makes this one of my favorite chargers I've tested to date! This charger retails for $39.99. I feel confident heading out all day and night as this device charges my iPhone three and a half times, an additional 27 hours, so I don't ever have to think about being stranded, unable to call Lyft during the show.
My final stop before leaving the show was Nite Ize. They have an innovative line of gizmos and gadgets to add ease and comfort to your lifestyle. This year they gave me a few, including the Steelie FreeMount Vent Kit. I've been looking for a way to mount my iPhone on my dash while I drive, but they all seem to detach or break shortly after installation. This mount is sturdy and a great solution, helping me to easily follow a map, while keeping my eyes on the road.
All and all, it was another successful year at CES. Despite the long lines and competing gatherings, CES continues to be the show to attend if you are in the consumer tech industry. So, if you find yourself in Las Vegas the week after New Years, join the chaos and experience the latest trends our industry is delivering.
---
Gary Moskoff is a contributing editor to Ask Dave Taylor, the Managing Director of Sleeping Giant. He specializes in understanding consumers needs and developing experiences that attach to their lifestyles.
Disclosure: Gary attended CES 2017 without charge. Companies submit review products and invite the team to attend conventions without charge, but this does not impact his professional opinion or the reviews he writes.