Written by Contributing Editor Gary Moskoff…
My fifth visit to the Consumer Electronics Show was nothing short of epic!
This year was the busiest show since 2008 with 141,00+ people, from 80 countries descending on the Las Vegas Convention Center. The taxi lines were insane and making a cell phone call was next to impossible with so many gadget freaks in the same town!
If you find crowds intimidating, you simply did not want to attend this year's show.
However, if seeing the latest, greatest gadgets and understanding the trends in the consumer electronics market is more important than anything else you do over the course of your year, then you were there and I probably bumped into you at some point during the week!
During the show, I enjoyed playing with both cutting edge technologies and utilities, such as the Qmadix Portfolio iPad 2 Case. I've been using mine since the show and have enjoyed the overall experience. The stand allows you to place your iPad on the table and interact with it as if you were using a laptop. The product list price is $149.99, but you can find it on Amazon for $90.89. My favorite feature is the Bluetooth removable keyboard, attached via magnet – very cool, which also works with your iPhone and/or iPod Touch.
Year after year, my favorite press event at CES continues to be Showstoppers! If you ever have the opportunity to attend you definitely should show up, though only working press are invited. This year, I enjoyed checking out and playing with a variety of products, including:
1. Jakks Pacific EyeClops® Night Vision 2.0 Infrared Stealth Binoculars – wish I had this when I was growing up…
2. The Brother line of computerized sewing machines.
3. Amazing upgrades to yurbud ear buds, http://www.yurbuds.com/.
4. The Lifeproof waterproof case, which is really waterproof. I wish I had this case on my last trip to Florida where my family and I went snorkeling and I left my iPhone in my car, leaving us with no photos of the outing.
5. You Never Loose, where you can win gift cards at up to 95% off.
This years participation by the auto manufacturers was welcomed by everyone at the show. Ford, Onstar, Audi, Chrysler, Kai, Mercedes-Benz and Subaru were all there. I was lucky enough to attend a press event announcing the Ford / NPR voice controlled IN-Car App with On-demand access to news, programs and stations. This partnership marked a first among news organizations. Ford's In-Car technology platform, Sync is now installed in four million cars. Personally, I can't wait to see how these IN-Car platforms evolve, and I have to say that Ford is off to an amazing start with NPR. Onstar hosted the You Can't Do That in Vegas Tweet House party I attended, another amazing event and product worth noting.

As my company is about to launch a music social game, I spent most of the show running around, meeting with potential partners, sharing our platform with other bloggers; and before I knew it, the show was over. I love the last day at CES. The crowds disperse and I can stroll around, checking out what's hot, until everyone tears down their booths to go home.
I spent all morning running from booth to booth and met up for lunch with one of my oldest, dearest friends, who turned me on to the coolest product at the show. Located in the Verizon booth, the Golden-i (image on right) is like nothing I have ever seen before. The Golden-i is the world's first hands-free, head-worn computing experience. Although the product is launching later this year for customers such as police and other first responders, personally, I can't wait to have one and am excited for all the consumer possibilities. Not only was the Golden-i lightweight, 3-6 ounces, it was Bluetooth / WIFI compatible, voice activated, boasting a near-eye 15-inch virtual PC display, running Windows CE 6.0.
The future is here and products like the Golden-i will usher in new technology that truly aligns with our lives and lifestyles. I talk about it in almost every article I write. It's not enough to produce a technically cool product, products must align with consumers lifestyles, using them should feel comfortable, an extension of one's body. The iPhone is, as always, the perfect example. The device feels so right in my hand, I have been known to forget it was there.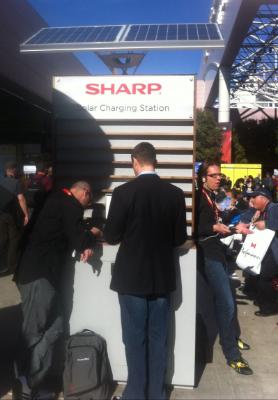 CES is simply an amazing experience, but I am always surprised how so many venders spend their money on worthless tchotchkes. There's nothing worse than getting candy or a trade show give away that stops working by the time you make it home.
So when someone like Sharp has the foresight to provide solar device charging stations for all to enjoy, I have to offer a special thank you to their team. This provided tremendous value to all the convention attendees. Las Vegas has this uncanny ability to drain one's cell phone faster than anywhere else on earth and there is no where worse for one's cell phone to die, so thanks Sharp for powering the show.
As I continue to recover from my insane week in Vegas, and gear up for my next show, the Music/Tech Summit in San Francisco, I find myself getting excited for next year's CES.
Be sure not to miss all of the new gizmos and gadgets at the show, see you in 2013 at the show of shows, CES.

Contributing editor Gary Moskoff runs
Sleeping Giant Solutions
, where they're busy building some very cool iPhone music games…